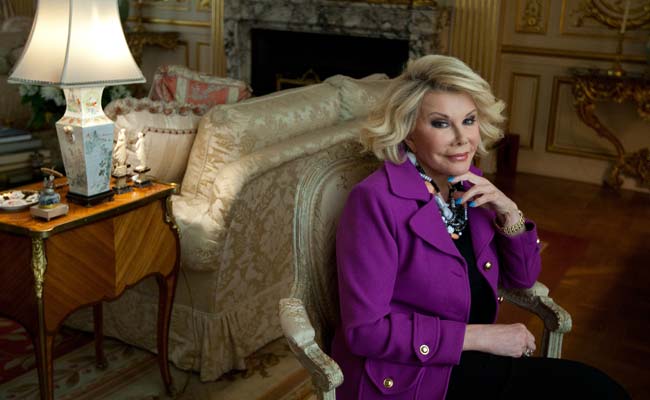 Joan Rivers
, the raspy loudmouth who pounced on America's obsessions with flab, face-lifts, body hair and other blemishes of neurotic life, including her own, in five decades of caustic comedy that propelled her from nightclubs to television to international stardom, died on Thursday in Manhattan. She was 81.
Her daughter, Melissa Rivers, confirmed her death. A spokeswoman, Judy Katz, said the cause had not yet been determined.
Rivers died at Mount Sinai Hospital, where she was taken last Thursday from an outpatient surgery clinic after going into cardiac arrest and losing consciousness, authorities said. She had been undergoing a minor procedure on her vocal cords a spokesman said. On Tuesday, her daughter said she was on life support; on Wednesday, she said she had been moved out of intensive care.
The State Health Department is investigating the circumstances that led to her death, a state official said Thursday.
She was one of America's first successful female stand-up comics in an aggressive vein that had been almost exclusively the province of men, from Don Rickles to Lenny Bruce. And she was a role model and an inspiration for tough-talking comedians like Roseanne Barr, Sarah Silverman and countless others.
Vivacious even as a nipped-and-tucked octogenarian, flitting from coast to coast and stage to studio in a whirl of live and taped shows, publicity stunts and cosmetic surgery visits, Rivers evolved from a sassy, self-deprecating performer early in her career into a coarser assassin, slashing at celebrities and others with a rapier wit that some critics called comic genius in the bloodletting vein of Bruce. Others called it downright vicious. But if she turned off the scowlers, she left millions in stitches.
"Can we talk?" she demanded in her signature call to gossip and skewer - the brassy Jewish-American princess from Brooklyn and Larchmont, in Westchester County, leveling with the world.
She would take the stage in a demure black sheath and ladylike pearls, a tiny bouffant blonde with a genteel air of sorority decorum. Then she'd stick her finger down her throat and regurgitate the dirt on the rich and famous, the stream-of-consciousness take on national heroes and sacrosanct cultural idols.
On Nancy Reagan's hairdo: "Bulletproof. If they ever combed it, they'd find Jimmy Hoffa."
On Charlton Heston: "He told us, 'I got Alzheimer's.' Surprise! He's been wearing his wig sideways for 19 years."
On Donatella Versace: "That skin! She looks like something you'd hang off your door in Africa."
On Sandra Bullock's Bottega Veneta gown at the Golden Globes: "It looked like Prince's old prom dress." (And Tina Fey's Zac Posen: "A decorative toilet seat cover.")
On Queen Elizabeth II: "Gowns by Helen Keller." "Nice looking. Not at all like her stamp. Wears her watch over the glove, though - tacky."
On herself, desperate for a man: "My parents had a sign, 'Last girl before thruway.' I'd get an obscene phone call. I'd say, 'Hold on a minute, let me get a cigarette.'"
Nothing was sacred.
On her husband's suicide: "After Edgar killed himself, I went out to dinner with Melissa. I looked at the menu and said, 'If Daddy were here to see these prices, he'd kill himself all over again.'"
Even the terrorist attacks on the World Trade Center were not off limits. "A few days after 9/11," Jonathan Van Meter recalled in a 2010 New York magazine article, "she called and asked me if I wanted to meet her for lunch at Windows on the Ground."
Van Meter wrote: "She pushes as far as she can as soon as she can. It's compulsive."
Shocked? Offended?
"Oh, grow up!" she advised.
Successes and Setbacks
A contemporary of Woody Allen and Bill Cosby, she began doing stand-up routines in nightclubs in the late 1950s, and broke through as a guest on "The Tonight Show" with Johnny Carson in 1965. Over the next two decades she became a regular guest host on the show, a Las Vegas headliner and a television star. In 1986, she hit the big time with a $10 million contract as host of the new Fox network's weeknight entry, "The Late Show Starring Joan Rivers," competing directly with her old benefactor.
Then came a series of devastating professional and personal setbacks. She was shunned by Carson, who said that she had never informed him of the Fox offer and who apparently considered her disloyal for accepting it. She insisted that it had had nothing to do with loyalty, and that Fox had wanted her because her ratings were higher and her demographics younger than his.
After less than a year on the air, she was fired by Fox when her ratings slumped. Her husband and manager, Edgar Rosenberg, fell into depression after a heart attack and committed suicide in 1987. Rivers became estranged from her daughter, Melissa. Bookings dried up, and her career seemed to be on the rocks.
But, struggling with grief, Rivers traveled for a time, then fell back on the resilience of laughter and revived her comedy career. As she told widows at a lecture billed as a "grief seminar" some years later: Think positive. Make a list.
"One, I don't live in Bosnia. Two, I never dated O.J."
"There are two kinds of friends, and both mean very well," she added. "One group doesn't want you to grieve at all - 'Come on, come on. It has been a week and a half since you lost Joe. Get out. Enough!' The other kind never want to see you be anything but grieving. 'Your husband is dead only eight years, and you're wearing a red dress?'"
Dreaming of the Stage
Joan Alexandra Molinsky was born in Brooklyn on June 8, 1933, to Meyer and Beatrice Grushman Molinsky, immigrants from Russia. Her father, a doctor, did comic impersonations of patients. Her mother insisted on piano lessons and private schools for Joan and her sister, Barbara, who grew up in Brooklyn and Larchmont. Joan attended Adelphi Academy in Brooklyn, Connecticut College for Women and Barnard College. A member of Phi Beta Kappa, she graduated in 1954 with a degree in English.
Dreaming of an acting career, she worked in the publicity department at Lord & Taylor and was a fashion coordinator for the Bond clothing stores. Her marriage to James Sanger, the son of the Bond stores' merchandiser, was annulled after six months in the 1950s. She married Rosenberg in 1965. Melissa was their only child. She survives Rivers along with a grandson, Cooper.
Her parents refused to support her acting ambitions, and she struggled for years as an office temp while taking small parts off-off-Broadway. She went into stand-up to support her acting, working in grimy cafes and small clubs, and was fired often. But she liked comedy and was good at it. She developed fresh routines based on her experiences and observations, changed her name to Rivers and got a few breaks.
In "Seriously Funny: The Rebel Comedians of the 1950s and 1960s" (2003), Gerald Nachman wrote, "Rivers is actually the well-groomed comic granddaughter of Yiddishe mamas like Belle Barth and Pearl Williams, female titans who roamed the Catskills and Miami Beach and who reveled in subversive humor at the expense of both men and themselves." He added, "When that wore out and she became a star, she turned her death ray on others, verbally abusing women who were thinner, richer and more famous while serving audiences as their new bitchy role model, styled by Oscar de la Yenta."
There were risks and reversals in her more aggressive style. Her appearance on Jack Paar's "Tonight Show" gave her national exposure, but audiences and Paar himself were appalled at her off-color ethnic jokes. Far from a springboard to success, it was a setback.
In the early '60s, she joined the Chicago-based Second City troupe, whose improvisational approach, she said, reinforced her confidence, although she preferred stand-up solos to its ensemble work. She had gigs in Greenwich Village and performed with a musical-comedy trio, Jim, Jake and Joan. She also wrote for CBS' "Candid Camera," and in 1966 began a series of appearances on "The Ed Sullivan Show."
A Big Breakthrough
She broke through on Carson's show in 1965. They had an immediate rapport. She told gags about her mother's struggle to marry her off, and about a motorist who ran over her wig and apologized for killing her dog. She soon had engagements at choice nightclubs in Chicago, New York and San Francisco.
As a frequent guest host on "The Tonight Show" in the '70s, she toned down her acidity for the national audience and often relied on the self-deprecation theme: "A peeping Tom looked in my window and pulled down the shade." She was so fat as a child that "I was my own buddy at camp; I began to retreat into myselves."
Her ratings as host sometimes surpassed Carson's, and NBC signed her as the sole regular replacement during his eight or nine annual vacation weeks in the '80s. The exposure made her a superstar in demand for award shows, conventions and TV specials. She was on magazine covers and commanded $200,000 for five nights in Las Vegas.
Besides appearing in Hollywood films, she directed one: "Rabbit Test," a 1978 comedy about the world's first pregnant man, starring Billy Crystal, with Rivers in a cameo as a nurse. Critics hated it. But her volume of madcap fiction, "The Life and Hard Times of Heidi Abromowitz" (1984), sold a half-million hardcover copies.
After being dismissed by Fox, she reinvented herself as a writer, producer and entrepreneur. She and her daughter reconciled and made a film, "Tears and Laughter: The Joan and Melissa Rivers Story" (1994). In 2011 their own reality show, "Joan & Melissa: Joan Knows Best?" began on the WE cable channel.
For years Rivers marketed her lines of jewelry and fashion on shopping channels. In the mid-1990s, she turned up at the Grammys, the Golden Globes and the Academy Awards, first for E! Entertainment network and then for the TV Guide Channel, poking a microphone into freshly Botoxed faces on red carpets and asking, "Who are you wearing?" In 2010 she became star of the E! show "Fashion Police," where she and a panel gleefully critiqued celebrities' wardrobes.
In the late 1980s and early '90s, she had her own daytime talk show, "The Joan Rivers Show," and in 1990 she won the Daytime Emmy for that category. She was also nominated for Drama Desk and Tony awards for her performance in the title role of "Sally Marr ... and Her Escorts," a 1994 Broadway play based on the life of Lenny Bruce's mother.
A documentary, "Joan Rivers: A Piece of Work," directed by Ricki Stern and Annie Sundberg, was released in 2010. By then she had weathered 50 years in show business, appeared in thousands of TV shows, more than a dozen films and countless nightclubs; written 11 books (now 12, with "Diary of a Mad Diva," issued this year); raised millions for causes including AIDS, Guide Dogs for the Blind and cystic fibrosis; and amassed about $290 million.
She lived in a triplex penthouse just off Fifth Avenue overlooking Central Park that featured a ballroom with gilded columns and 23-foot-high ceilings. It was on the market for $29.5 million in 2011, when she told The New York Times: "Gadhafi wanted to rent it for that whole U.N. thing. People said it's blood money. I said, 'Oh, I can easily wash blood off dollar bills.' But they didn't like it. It was too close to a synagogue."
© 2014, The New York Times News Service