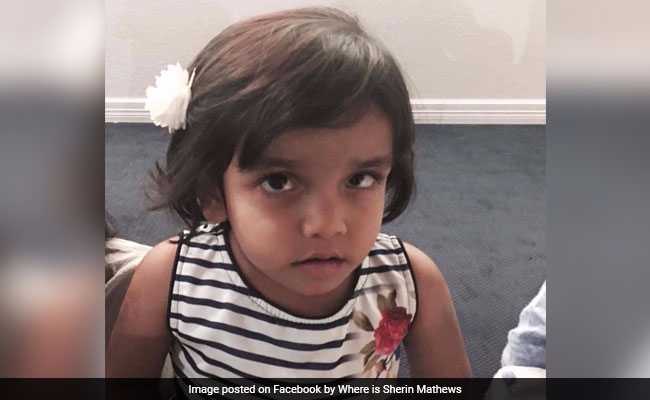 TEXAS:
The three-year-old Indian-born girl,
initially believed to have been made to stand outside her suburban Dallas house
at night, had choked on a glass of milk that her adoptive father forced her to have, according to the police.
Wesley Mathews, 37,
has told the police that he thought
Sherin Mathews
had died since he could not feel her pulse and removed her body from the house.
According to the fresh report
filed by the police after his re-arrest earlier
on Tuesday, Wesley Mathews told the police that Sherin did eventually drink her milk in the garage and he "physically assisted" the girl.
But the girl began to choke.
"She was coughing and her breathing slowed. Eventually, Wesley Mathews no longer felt a pulse on the child and believed she had died. Wesley Mathews then admitted to removing the body from the home," the police report on Wesley Mathews arrest said. He faces life in jail for charges of causing injury to a child.
For nearly a fortnight,
Wesley Mathews had steadfastly told the police
that he sent out the toddler at 3 a.m. on October 7 to stand across an alley from their house in Richardson, a suburb north of Dallas in Texas.
It was meant to discipline her
for not eating. According to his earlier version, when he went to check on her 15 minutes later, she was missing.
The police had all along doubted this version because he had reported her missing to the Richardson police five hours after she went missing on October 7. Investigators later found that someone had
left in the family's SUV about 4 a.m. and returned home within an hour.
Wesley had earlier been arrested, and released on bail for a charge of child abandonment and endangerment.
But the police kept up the search,
bringing in sniffer dogs, drones and helicopters
to find the girl in the suburb that has a population of about 1 lakh people.
On Monday,
the body of a small child was found hidden in a culvert
less than a mile from the Mathews' home. It has been confirmed that the the child was Sherin Mathews by using dental records.
Hours later, Wesley Mathews showed up at the police station with his lawyer and gave them a different version.
The police said Mr Mathews' fresh statements support the offence of injury to a child.
"This is an active investigation, and there is the possibility of additional arrests or modified charges as more evidence becomes available," the Richardson police department said in a statement.
Wesley Mathews and his wife, Sini, adopted Sherin about two years ago from an orphanage in India. According to the police, the suspect told them that the girl was malnourished and had to be fed whenever she was awake.