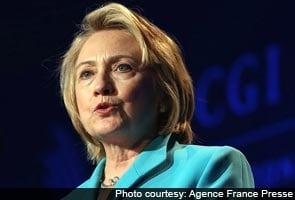 Just a few months after leaving the State Department, Hillary Rodham Clinton has plunged into the lucrative world of paid speechmaking, joining a branch of the family business that has brought the Clintons more than $100 million since her husband left the White House in 2001.
For about $200,000, Hillary Clinton will offer wonky reflections and Mitch Albom-style lessons from her time as the nation's top diplomat. ("Leadership is a team sport." "You can't win if you don't show up." "A whisper can be louder than a shout.")
She sticks around for handshakes and picture-taking, but the cost of travel, and whether a private jet is provided, must be negotiated as part of her fee.
The $200,000 she commands appears to be comparable to what Bill Clinton receives for speeches delivered in this country, although the former president - who earned $17 million from speeches last year - has collected much more outside the United States, including the $700,000 he was paid when he spoke to a company in Lagos, Nigeria.
Convention organizers are eager to pay Hillary Clinton, and, since leaving office in February, she has embarked on a packed schedule of events for groups like the American Society of Travel Agents and the National Association of Realtors.
But joining what is known in Washington as the buckraking circuit carries risks for Clinton, who prides herself on a long career in public office and could be diminished by the free-flowing money as she considers a run for president in 2016.
The senators who may face off against her in three years are barred from taking such honorariums. Past presidential candidates, including former Gov. Mike Huckabee of Arkansas, have drawn scrutiny for the practice; Huckabee memorably left the presidential campaign trail in 2008 to deliver an address in the Cayman Islands.
"I'm not independently wealthy," Huckabee said at the time. "I wish I was. I have to make a living."
The events are also giving Clinton large captive crowds as she considers a run for president. She shows a personal side, according to several people who have attended her speeches this summer. Along with reminisces about her mother, Dorothy Rodham, she gushes about her daughter, Chelsea, and tells the oft-shared story of the first time she heard her husband's Southern drawl as he described "the size of watermelons in Arkansas."
She does not shy away from policy, though. Last month, about 17,000 people filed into McCormick Place, a convention center in Chicago, where Clinton, in prepared remarks, talked about health care changes, as well as border security and immigration.
"I hope it's heading to a new law that will resolve a lot of these issues," she told the crowd. "It's way overdue."
She praised the human resource managers gathered for their conference.
"You know what it takes to provide workers the flexibility and benefits that they need to care for their children," she said.
At a time when almost everything Clinton publicly says feeds presidential speculation, she has also used the speeches to address issues like the Arab Spring, the conflict in Syria and the former National Security Agency contractor Edward J. Snowden.
Clinton does not make her speechmaking schedule public, but the trade groups typically publicize the events. A spokesman for the former first lady declined to comment, but an aide noted that she sometimes gave speeches for as little as $15,000.
Her political rivals have already started to keep tabs on her speaking schedule, looking for any hint of a conflict of interest. (So far, Clinton's staff appears to have carefully chosen where she has given speeches, avoiding paid talks to potentially controversial groups.)
"We're starting immediately to monitor both Hillary and the other Democratic rising stars and collect, tag and characterize their speeches so we can hold them accountable when the campaign begins in earnest," said Tim Miller, the executive director of America Rising, a conservative political action committee.
Miller said that it was too early to send operatives to covertly buy tickets to Clinton's speeches, but that the group was watching from a distance "to monitor whether she's hobnobbing with investment bankers in New York City that might seem like favoritism down the line."
Since Clinton stepped down as secretary of state, she has divided her time between writing a memoir and juggling a growing schedule of engagements, paid and unpaid. The unpaid appearances are typically focused on her advocacy work for women and girls as part of the Clinton Foundation, the charitable organization founded by her husband. (She is not completely avoiding politics, and will campaign for Terry McAuliffe, a family friend who is running for governor of Virginia.)
In Chicago, she also spoke to a sellout crowd at the Navy Pier to benefit Citizens United for Research in Epilepsy, the nonprofit group founded by Susan Axelrod, the wife of David Axelrod, a former top strategist for President Barack Obama.
Next month, Clinton will speak at a meeting of the Global Business Travel Association in San Diego (a convention her husband addressed for $250,000), and in the fall she will deliver speeches at the conference of the American Society of Travel Agents in Miami.
As a political image builder, the paid speaking circuit is almost unrivaled, said Tad Devine, a Democratic consultant who advised Al Gore and John Kerry in their presidential campaigns.
"It's a one-way street" that allows Clinton to set her own terms, Devine said. "It's the perfect opportunity to deliver a message of your choosing to who you want, to reach a broad audience and to get paid for it."
A staff of seven working out of Clinton's small personal office on Connecticut Avenue in Washington balances her schedule. Aides include Huma Abedin, the wife of Anthony D. Weiner, who is running for mayor of New York, and Dan Schwerin, who has worked for Clinton since 2005.
Clinton's staff devotes much of its time to digging through giant binders of research assembled during her time at the State Department to help with her coming book, which is scheduled for release by Simon & Schuster next summer.
A handful of trade groups - which do not endorse political candidates - started requesting Clinton for their conferences even before she left office, said several of the executives involved in booking her.
The Harry Walker Agency represents both of the Clintons and other sought-after speakers like Kofi Annan and Dick Cheney. Don Walker, the president of the agency, did not respond to e-mailed requests for comment.
Booking one of the country's most in-demand public figures does not always work out. Last month, Clinton had to cancel a speech at Pershing LLC's Insite financial conference in Hollywood, Fla., when it fell on the same day as the funeral of Sen. Frank Lautenberg of New Jersey, at which she delivered the eulogy. Pershing got former Defense Secretary Robert M. Gates instead.
© 2013, The New York Times News Service