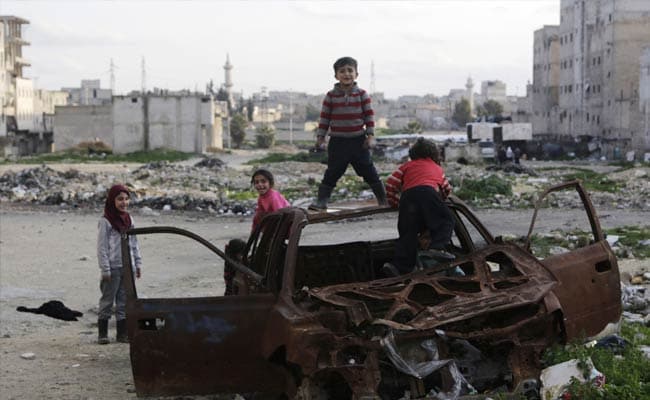 Geneva:
Countries should negotiate with Islamic State to persuade it to let UN children's agency UNICEF into areas the militants control, the aid organisation's representative in Syria said today.

Other UN agencies say they are struggling to get vital aid to millions of civilians in territory held by the fighters - but Islamic State is refusing to talk to them.

Negotiations should take place "at least to protect the children," UNICEF's Hanaa Singer told a news conference in Geneva.


"They refuse to talk to the UN for the time being," she said. "But at the same time it's not the responsibility only of the humanitarian agencies. This is a political responsibility, and for the political parties to talk and put pressure and start a dialogue with ISIS."
Asked if she meant that Syria or other countries with influence in the region should be talking to Islamic State, which is also known as ISIS and ISIL, she said: "Other state parties, yes."
Islamic State, an ultra-hardline offshoot of Al Qaeda, has declared a caliphate in captured territory in Iraq and Syria and has gained global notoriety for killing or kidnapping members of ethnic and religious minorities and posting videos of its members killing Arab and Western hostages.
Jens Laerke, spokesman for the UN humanitarian agency OCHA, said talks on humanitarian access were going on with other armed groups but "ISIL does not want to speak to the humanitarian agencies more than the other way around".
"As humanitarians the principle is, with ISIS and with any armed group that can facilitate access to populations in need, that we will engage with them, primarily at a local level."
UNICEF estimates that nearly 14 million children are suffering because of the conflict in Syria and neighbouring Iraq, and there may be as many as 2 million who are out of reach of humanitarian help, Singer said.
Rick Brennan, the head of humanitarian response at the World Health Organization, said there were problems delivering healthcare to civilians in Syria and described a "dire situation" in Islamic State areas.
"We are not negotiating with ISIS organisationally ourselves," he said. "There are no ongoing negotiations with ISIS. But certainly other channels for getting access and delivering assistance into ISIS-held areas are clearly being explored."
© Thomson Reuters 2015