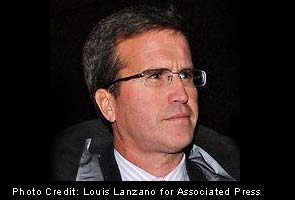 New York:
Two former hedge fund managers were found guilty on Monday of fraud and conspiracy, the latest convictions in the government's campaign to eliminate illegal conduct on Wall Street trading floors.
After two full days of deliberations, a jury convicted Anthony Chiasson, a co-founder of Level Global Investors, and Todd Newman, a former portfolio manager at Diamondback Capital Management. The two had denied charges that they participated in a conspiracy that made more than $70 million illegally trading technology stocks.
Level Global and Diamondback were founded by former employees of SAC Capital Advisors, the $14 billion hedge fund run by Steven A. Cohen that has become a focus of the government's insider trading inquiry. Cohen has not been accused of any wrongdoing, and his spokesman has said that Cohen has acted appropriately.
"With today's guilty verdicts, Todd Newman and Anthony Chiasson join the ranks of high-level investment fund managers who are being made to answer for their extraordinarily bad risk-reward analysis about what is right and what is wrong," Preet Bharara, the U.S. attorney in Manhattan, said in a statement.
Both Chiasson and Newman sat stone-faced as the jury foreman announced the guilty verdict. After it was read, Newman slouched in his chair; Chiasson stared blankly. Judge Richard J. Sullivan, the judge presiding over the case, set sentencing for April 19. Until then, they are free on bail.
Gregory Morvillo, a lawyer for Chiasson, 39, said his client "has always been, and will continue to be, an honest, hardworking man," and would appeal. Stephen Fishbein, a lawyer for Newman, 48, declined to comment.
Juries in U.S. District Court in Manhattan have convicted all 11 insider-trading defendants who have taken their cases to trial since 2009, the year that prosecutors began bringing charges arising out its multiyear investigation into criminal activity at hedge funds.
Of the 72 people charged with insider trading crimes - a collection of traders, corporate executives, consultants and lawyers - the U.S. attorney's office in Manhattan has secured 71 guilty pleas or convictions. (Deep Shah, an indicted former analyst at Moody's, has been declared a fugitive.)
The trial of Chiasson and Newman grew out of one of the bigger insider trading conspiracies uncovered by prosecutors. In November 2010, the FBI raided the offices of Level Global and Diamondback. About a year later, prosecutors charged Chiasson, Newman and six others with a participating in a "tight-knit circle of greed" that earned illegal profits by trading the stocks of Dell, the computer company, and Nvidia, a chip maker.
Six of the eight defendants pleaded guilty, but Chiasson and Newman fought the charges, denying that they traded while knowingly in possession of secret information.
The case against Chiasson and Newman was seen as more challenging for the government than many previous insider-trading prosecutions. In earlier cases, including the trial of the former hedge fund manager Raj Rajaratnam, the government played for the jury dozens of secretly recorded incriminating conversations.
In this case, however, the government did not have either defendant on wiretap. Instead, prosecutors were forced to rely on witness testimony, along with a smattering of emails and instant messages that they said showed that Chiasson and Newman traded while knowingly armed with secret corporate information.
The government built its case around the testimony of two key witnesses: Spyridon Adondakis, who is known as Sam, who worked for Chiasson at Level Global, and Jesse Tortora, who was supervised by Newman at Diamondback.
Both testified that they received secret financial information from sources inside the technology companies and then passed the tips along to their bosses. At Level Global, Chiasson used the confidential data to make a big bet against Dell and - in a single trade - earn more than $50 million, according to prosecutors.
The defense attacked the credibility of Adondakis and Tortora.
The two witnesses were depicted as part of a group of young, brash Wall Street traders that partied together in the Hamptons and called themselves the "Fight Club."
Both were also portrayed as pliant cooperators seeking to curry favor with the government in the hopes of receiving a lenient sentence. Defense lawyers called Adondakis an "easy, practiced liar" and Newman was labeled as someone who "cannot and should not be trusted."
The defense also argued that both Chiasson and Newman had no idea that the information provided to them by their "Fight Club" underlings came from secret sources inside the technology companies, but instead was based on fundamental research.
A jury of 12 New Yorkers, which included a dog walker and a retired postal worker, rejected their defenses. "There was a lot of evidence," said one of the jurors, David Barksdale, after the verdict. "We took into account pretty much everything."
The five-week trial garnered attention in part because of two funds' ties to SAC. Chiasson co-founded Level Global with David Ganek, a former star trader at SAC who earned more than $100 million working for Cohen. The two left SAC and started Level Global in 2003. At its peak, Level Global managed about $4 billion in assets.
While Chiasson operated behind the scenes, Ganek cut a prominent figure in New York society. Ganek and his wife, the novelist Danielle Ganek, are noted art collectors and own an apartment at 740 Park Avenue.
During the trial, Sullivan ruled that Ganek was a co-conspirator in the case. Ganek has not been charged with a crime, and his lawyer has said there is no evidence that he knew about any inside information.
Diamondback, where Newman worked as a portfolio manager, was started by Richard Schimel and Larry Sapanski, two former SAC employees. The fund grew to $6 billion in assets under management before becoming ensnared by the investigation.
Another former Diamondback employee, Anthony Scolaro, pleaded guilty to insider trading in late 2010 and cooperated with the government.
Level Global closed its doors shortly after the FBI raid. Earlier this month, Diamondback announced that it was shutting down after a wave of investors withdrew money from the fund.
And there were other SAC connections: Jon Horvath, a member of the conspiracy who pleaded guilty, was an SAC analyst. As part of his guilty plea, Horvath said that he gave the confidential information about Dell and Nvidia to his boss at SAC, Michael Steinberg, and they traded based on that information. It emerged during the trial that just days before Dell announced quarterly earnings in 2008, Horvath emailed Steinberg with details about the computer maker's financials.
"I have a secondhand read from someone at the company," Horvath wrote. "Please keep to yourself as obviously not well known."
Steinberg replied: "Yes normally we would never divulge data like this, so please be discreet. Thanks."
The government has named Steinberg, a lieutenant of Cohen, a co-conspirator in the case, but he has not been charged. Barry Berke, a lawyer for Steinberg, declined to comment.
© 2012, The New York Times News Service