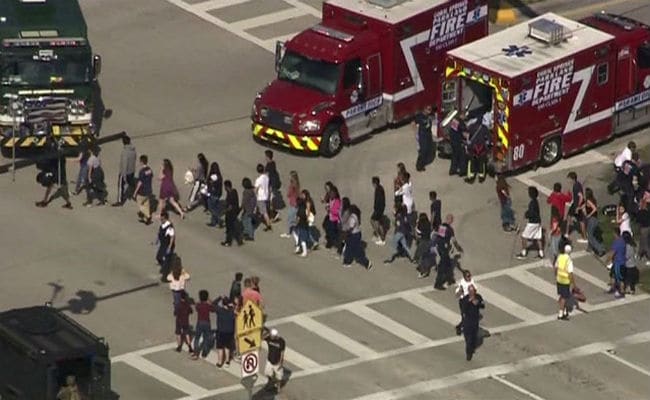 FORT LAUDERDALE, Florida:
An ex-student opened fire at a Florida high school today, killing at least 17 people and injuring around 14. The sheriff of Broward County, Florida says that the shooter is in custody. Marjory Stoneman Douglas High School in Parkland, 72 km north of Miami, had been placed on a "code red" lockdown. At least 17 people were killed before the gunman, identified as Nikolaus Cruz, 19, was taken into custody. Students hid in classrooms until they were rescued by police.
"There are numerous fatalities. It's a horrific situation," Broward Country Schools Superintendent Robert Runcie told reporters. He said the school district had got no warning of a potential shooter and that there was no evidence of more than one shooter.

Live television showed dozens of students, weaving their way between law enforcement officers with heavy weapons and helmets, and large numbers of emergency vehicles including police cars, ambulances and fire trucks.


President Donald Trump, Melania Trump, Senator Marco Rubio and the Governor of Florida Rick Scott tweeted condolences for the victims and assured that rescue operations are underway.
The shooting was the latest in a deadly series of attacks at US schools. A 15-year-old gunman in January killed two students at a high school in US' Benton, Kentucky.
Here are the updates from the Florida school shooting:
The Broward Sheriff's Office in its press realease say, "Seventeen victims were transported to Broward Health Coral Springs, Broward Health North, Broward Health Medical Center and Boca West Medical Center. Two of the 17 victims who were transported died at the hospital.
Fifteen victims died at the school." The release further read investigators are working to identify all the victims.
The next media briefing of the sheriff's office is expected to be around 9PM (IST) tonight.