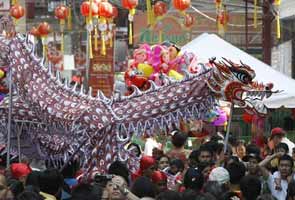 Beijing:
China will literally shut down for a week beginning today to celebrate the Lunar New Year as millions head home.
The Chinese will begin celebrating the lunar New Year or the Spring Festival formally from tomorrow but the celebrations have already began.
The Spring Festival this year marks the beginning of the "Year of the Dragon," according to the Chinese Zodiac which assigns one animal, either real or fabricated, to each year, repeating every 12 years.
The dragon ranks fifth in the Chinese Zodiac, preceded by the rabbit and followed by the snake.
Dragon is the only zodiac animal that never existed in the real world. It is a composite of nine animals: the snake, camel, elk, deer, mussel, carp, eagle, tiger and ox.
Unlike the fire-breathing monster depicted in Western mythology, the Chinese dragon is portrayed as a snake-shaped figure with deer-like horns and four claws.
The dragon had symbolic meaning for ancient royal families and was worshipped as a "water god" in regions prone to floods and droughts.
The dragon is also a special for China as it is literally identified with its iconic ancient symbol.
This is the world's biggest yearly migration, as more than half of the country's 1.34 billion people move to their native places to celebrate the occasion with their families, putting to test country' rail, road and airlines.
The dragon year started off on controversy of sorts with several people scuffing at an official stamp portraying the dragon in a fierce form, thereby reinforcing global fears over the rise of China.
"Whoever designed this year's dragon stamp took this liberty in big strides", Chinese current affairs commentator, Raymond Zhou wrote in his column "Enter the Dragon" in the state run China Daily.
"The result is a dragon that's so fierce that it took many by surprise. Commentators in other countries, who had always dreamed of fitting China's image into the Western prototype of the dragon, were handed the ideal testimony. Now, their fear of China can be confirmed by China's own portrayal of this iconic creature", he said.
Despite ferocity, Chinese who consider it their national symbol, hope that the Dragon will bring them luck
Get Breaking news, live coverage, and Latest News from India and around the world on NDTV.com. Catch all the Live TV action on NDTV 24x7 and NDTV India. Like us on Facebook or follow us on Twitter and Instagram for latest news and live news updates.