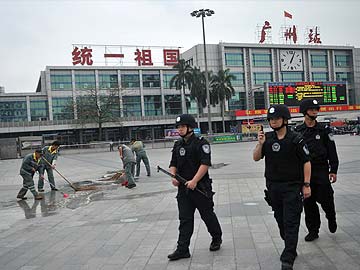 Four attackers unleashed a brazen late morning assault outside a railway station in Guangzhou on Tuesday, slashing at least six people, China's state media reported. It was the third such attack by multiple assailants at railway stations in China since March.
Guangzhou Daily, citing eyewitnesses at the scene, said the attackers were all wearing white caps, and that one was shot by the police, another suspect was arrested, and that the other two were still believed to be at large. Among the six injured, one was hacked on the head and neck and in critical condition, the newspaper said.
(Six Wounded in Knife Attack at Chinese Train Station: Police)
The attack was likely to further unnerve a nation that is struggling to cope with increasingly frequent attacks on civilians in high-profile public areas, including a daring assault last October at Beijing's Tiananmen gate that the authorities tied to the East Turkestan Islamic Movement and that left five dead.
The latest attack came just a week after assailants with explosives and knives staged an assault that left three people dead - two of them believed to be attackers - and injured at least 79 outside a railroad station in Urumqi, the capital of the western Chinese region of Xinjiang.
That burst of violence occurred just after China's president, Xi Jinping, had ended a visit to the restive area. After the assault he said that China must prepare itself for a long-term fight against what he called separatist forces in Xinjiang, where members of the Uighur minority feel increasingly alienated from wider Chinese society and where Han Chinese increasingly dominate.
On March 1, a group of ethnic Uighurs slashed and killed 29 people at a railway station in Kunming. An English-language editorial by Xinhua, the state news agency, drew connections between last week's blast and the attack in March.
The identities of the assailants in Tuesday's incident were not immediately available.
Photos posted online by Chinese media showed blood spilled in a plaza cordoned off with police tape. In another image, paramedics treated an injured person while a police officer patrolled while holding a long staff with a semicircle at the end. Security personnel in China have recently been given instruction on how to help subdue attackers with knives.
© 2014, The New York Times News Service