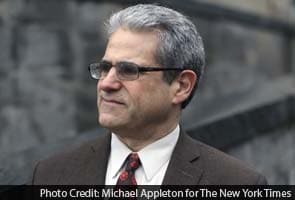 Rabbi Shaul Praver watched closely as the grieving mother stepped into the funeral home where her son, Noah, 6, lay.
It was the first time that Veronique Pozner had seen the boy's body since he was shot to death in his first-grade classroom two days before. A sheet covered his body up to his neck, and a social worker had urged Pozner not to remove it. She obliged, but began to wail, alternately telling her son to leave this "dark horrible world," and then beseeching him to come back.
Praver began to speak softly in earnest tones. He told her that although Noah had physically left this world, he was not lost to them because his soul lived on. He asked her if she remembered her 6-year-old self and when she said she did, he told her that "when we become adults, our 5- and 6-year-olds didn't die with us. They're contained within a larger vessel."
He was offering, he said, a kind of "spiritual morphine."
"She understood," recalled the rabbi, who has led Temple Adath Israel for 11 years, adding: "We were able to leave the room, and talk about making arrangements for the casket, and Shiva, and the memorial services."
The smalltown clergy of Newtown, Conn. - home to one temple, one Catholic church along with half a dozen other congregations - is accustomed to tending its flock in birth, death, and ritual. But this week, they are preparing to bury 20 children, a wrenching task that includes helping secure tiny coffins and eulogizing lives that had just begun.
The funerals fall one after the other in grim, almost relentless succession, beginning Monday with the service for Noah, Newtown's youngest victim, at 1 p.m. At the same hour, at the Honan Funeral Home, a funeral will be held for his schoolmate, Jack Pinto, 6. A wake will be held Monday evening for James Mattioli, 6. Both he and Jessica Rekos, 6, will be buried Tuesday after their funerals at St. Rose of Lima, the Catholic church where Mass was evacuated on Sunday after a bomb threat.
The clergy members of Newtown is "very close," Praver said, and since the shootings they have been in constant contact, grappling with the logistics of planning multiple funerals, providing spiritual relief, and handling news media requests. The demands are almost overwhelming: by midday Sunday, Praver had 107 voice messages on his phone.
During more ordinary times, when people died in Newtown, their families often turned to the Honan Funeral Home, the white colonial building located in the tiny downtown on Main Street, a few blocks from the Newtown General Store.
The Honans will handle 11 funerals this week, all for children, according to Pasquale Folino, president of the Connecticut Funeral Directors Association.
But given the enormousness of what has happened, 100 funeral directors from across Connecticut have signed up to help, providing use of their hearses and cars and working in shifts in teams of six to eight over the next week to help with the arrangements. Manufacturers have donated the child-sized caskets.
For the clergy's part, they hope to offer wisdom along with eulogies. Some of those they bury they knew well; others they glimpsed through their parents or older sisters and brothers, just in passing.
The Pozners are among the 100 families that make up Temple Adath's congregation of Temple Adath Israel.
While the rabbi did not know Noah or his twin sister Arielle, who was in a nearby classroom during the shooting, he had bar mitzvahed the family's oldest son and taught the oldest daughter. After the shootings on Friday, he was summoned, along with the rest of the town's clergy, to Newtown's firehouse, where families of the missing schoolchildren had gathered. He spotted Pozner right away amid the group of parents half out of their minds awaiting news of their children's fates. She was the lone member of his congregation in the room. He walked up to her, held her hand and laid consoling arms around her shoulders as she retreated behind a wall of stone, a near comatose state of shock.
He began searching for ways to console her. Tending to the grief stricken, he says, rests less in searching for the perfect words than in actively listening. Pozner seemed to find a deep if perhaps fleeting peace after he told her that while Noah was no longer with them on earth, his soul lived on. Her warm reaction and warm embracing of that idea helped him plan for what he would say at the boy's funeral.
"She found a lot of consolation in the idea that that death doesn't really exist - it's just a transformation because we all come from God and everything in the world is from God,"he said. "Noah wasn't lost."
The clergy leaders of various faiths also gathered Sunday at 3 p.m. to plan their various roles in the interfaith ceremony that President Barack Obama attended.
Even though they found themselves in the town's bleakest hour, the rabbi said that clergy members kept remarking to one another about the profound spiritual intimacy that had been born. It was, he said, a much needed comfort.
"At the same time we're in a very dark place, we're in a very sacred place," he said. Everybody, for the last two days, are brothers and sisters. You can hug strangers in the street.
"Everybody," he said, "is so close to each other."
© 2012, The New York Times News Service