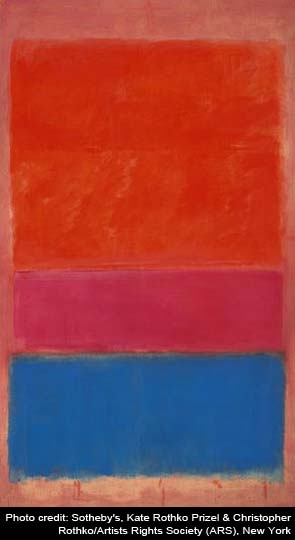 New York:
"I have all the time in the world," Tobias Meyer, Sotheby's principal auctioneer, said Tuesday night as he leaned over the lectern and flashed a smile at Lisa Dennison, the auction house's chairwoman.
She was on the telephone, trying to draw a higher bid from a client. Two tenacious collectors were competing to take home "No. 1 (Royal Red and Blue)," a classic Mark Rothko painting from 1954 that is also a conspicuous example of what dealers like to call "wall power," and the bidding was already at $61 million.
The painting ended up selling to another mystery telephone bidder for $67 million, or $75.1 million including Sotheby's fees.
The Rothko was the high point in a contemporary art sale of exceptionally strong prices and spirited bidding that ultimately made $375.1 million, the highest total for any sale in Sotheby's history, beating the previous record of $362 million set in May 2008.
After last week's disappointing auctions of impressionist and modern art, it was also a night of great relief for the international group of collectors and dealers who packed Sotheby's salesroom.
"There were huge prices," Allan Schwartzman, a Manhattan art adviser, said toward the end of the sale. "It was all about fast money looking for places to park."
Shortly before the Rothko sold, Jackson Pollock's drip painting "Number 4, 1951" - a layered patchwork of red, blue, yellow, green and ocher oil paints, metallic aluminum and flecks of shiny black enamel - which was expected to bring $25 million to $35 million, sold to Dennison, bidding on behalf of her telephone client, for $36 million, or $40.4 million with fees, a record for the artist at auction. (Final prices include the buyer's commission to Sotheby's: 25 per cent of the first $50,000; 20 per cent of the next $50,000 to $1 million, and 12 per cent of the rest. Estimates do not reflect commissions.)
Of the 69 works on offer, only 11 failed to sell.
Four bidders went for Bacon's "Untitled (Pope)" from 1954, which had been expected to sell for $18 million to $25 million but sold to a telephone bidder for $26.5 million, or $29.7 million including Sotheby's fees.
Not everything topped expectations. Gerhard Richter, the 80-year-old German artist, holds the title of the most expensive living artist at auction, after a painting belonging to Eric Clapton sold at Sotheby's in London last month for $34.2 million. Richter's prices have been rising ever since a recent retrospective that went to the National Gallery in Berlin, the Tate Modern in London and the Pompidou Center in Paris. On Tuesday, Sotheby's had a 1990 Richter that was estimated to bring $15 million to $18 million.
Perhaps there are just too many examples of the artist's work - Christie's has several on offer at its sale Wednesday night - and this painting had only one bidder, who was willing to pay $15 million, or $17.4 million including fees.
The sale also included several Warhol paintings from the 1960s. "Green Disaster (Green Disaster Twice)," a 1963 work based on a photograph of a brutal car crash, went for $15.2 million. The buyer was Peter Brant, the newsprint magnate, who is a large Warhol collector. Great works on paper by Warhol are rare, and on Tuesday night three of them, also from the 1960s, brought strong prices. Top among them, "Suicide," a gruesome image of a man jumping to his death that was expected to bring $6 million to $8 million, went to Philippe Segalot, a Manhattan dealer, for $16.3 million - a record for a work on paper by the artist. (Sotheby's previously sold it in 1992 for $132,000.)
As the dealers and collectors were milling outside of Sotheby's toward the end of the evening, many said they were amazed at how strong the results were, given the shaky economic picture around the world.
"It was surprising," Segalot said. "But Sotheby's had works that were fresh to the market and they put them in the beginning of the sale. That set the tone for the rest of the evening."
© 2012, The New York Times News Service