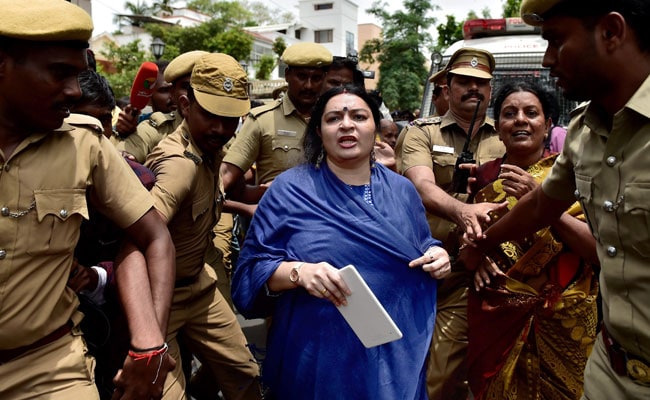 Chennai:
J Jayalalithaa's niece Deepa Jayakumar told a one man panel probing the death of the late Chief Minister that her aunt "may have been attacked." She also wanted the panel to question the entire family of VK Sasikala.
After her three hour deposition before the Justice A Arumughaswamy Commission of Inquiry in Chennai, Deepa said she submitted her apprehensions over the circumstances leading to the hospitalisation of Jayalalithaa.
"I told the panel that there is no chance for her (Jayalalithaa) to get indisposed and get hospitalised (after attending work till nine pm). She may have been attacked," she told reporters.
On September 22, 2016, Jayalalithaa was in good health and till 9 pm that day, attended government work, Deepa, who shot to the limelight ahead of the death of the late leader last year, said.
All employees at the former chief minister's Poes Garden residence, including long time cook Rajamma, should be questioned, she said in her deposition.
"I submitted details on the circumstances under which my aunt was admitted to the hospital," she said and added that "all the family members of Sasikala should be questioned."
Sidelined AIADMK leader Sasikala, who was a close aide of Jayalalithaa, is now serving a four year prison term at Parappana Agrahara prison in Bengaluru in a disproprotionate assets case.
Jayalalithaa was admitted to Apollo Hospital in Chennai on the night of September 22 last year and passed away on December 5, 2016.
Deepa also said a long time neighbour of Jayalalithaa apprised her that six persons not linked to the household were made to stay in the upscale residence.
This aspect should be probed further, she told the panel and added that the neighbor wanted his identity protected.
The Arumughaswamy Commission of Inquiry, constituted by the Tamil Nadu government to go into the circumstances leading to Jayalalithaa's death,commenced it's hearing on November 22.
Several persons, including doctors, Madurai based DMK functionary P Saravanan have deposed before it so far.
In September 2017, the Tamil Nadu government constituted the panel under the Commissions of Inquiry Act, 1952.
The panel's terms of reference was to inquire into the circumstances and situation leading to the hospitalisation of Jayalalithaa (on September 22, 2016) and treatment provided till her demise on December 5 last year.
The Commission had invited all those having "personal knowledge and direct acquaintance" in the matter to furnish information to it till today.
Following Jayalalithaa's death, suspicion over the circumstances leading to her demise were raised by several persons, including present Deputy Chief Minister O Panneerselvam and his followers.
Then a rebel party leader, Mr Panneerselvam and his followers had demanded a probe into her death, either a judicial inquiry or a CBI probe.
After unification of the factions led by Chief Minister K Palaniswami and O Panneerselvam, the government notified constituting the panel.
The probe was a key precondition put forth by the Panneerselvam faction for a merger.
DMK President MK Stalin had batted for a CBI probe and also raised the issue during campaigning for the RK Nagar bypoll in April, which was subsequently cancelled following allegations of bribing of voters.
The bypoll will now be held on December 21.