Chennai:
Highlights
He was asked if AIADMK paid him Rs 1,500 crores.
Vaiko's MDMK was acting like 'B-Team' of AIADMK, the interviewer said.
He had earlier accued DMK of offering money and seats to DMDK
MDMK leader Vaiko was seen walking out in a huff in the middle of a television interview when asked whether his party was offered a huge sum by Tamil Nadu's ruling AIADMK party.
A visibly-angry Vaiko got up from his seat before the question was completed, saying: "I am cancelling the interview with this."
The clip from the interview, which is yet be telecast, was uploaded on social media.
The interviewer had remarked Vaiko's party was acting like the "B-Team" of the AIADMK which is led by Chief Minister J Jayalalithaa.
"You allege DMK had offered five hundred crore and eighty seats to Vijayakanth. Similarly there's an allegation that the party under you that functions as AIADMK's B team was paid Rs 1,500 crore." the interviewer had said.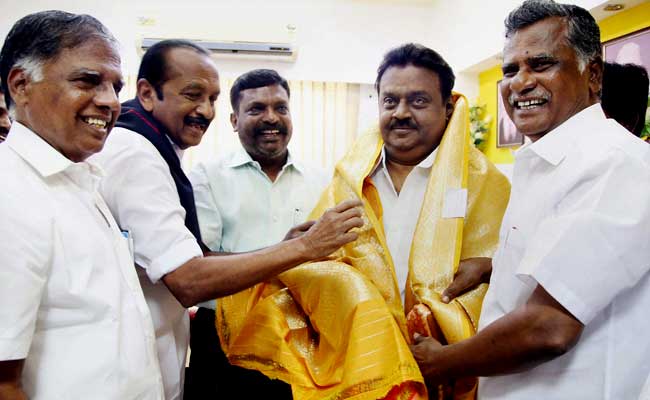 To an earlier question about how he had accused the Opposition DMK of having offered Rs 500 crore and 80 seats to DMDK to join its alliance, Vaiko said: "It was on the basis of reliable information I told that."
Vaiko said he would face the issue in the court.
Responding to the incident later, Vaiko said "The interviewer Kannan is a good friend. I walked out out of respect to him. Our hands are untainted"
On Friday, speaking to reporters, Vaiko had alleged that DMK had offered DMDK led by actor-turned-politician A Vijaykant 80 seats to contest and Rs 500 crore cash if he joined the DMK alliance.
DMK president M Karunanidhi immediately sent Vaiko a legal notice for defaming him, demanding withdrawal of the false statement within seven days and expressing regret over it.
Get Breaking news, live coverage, and Latest News from India and around the world on NDTV.com. Catch all the Live TV action on NDTV 24x7 and NDTV India. Like us on Facebook or follow us on Twitter and Instagram for latest news and live news updates.