Surat (Gujarat):
A diamond merchant from Gujarat's Surat, along with his family members including wife Nita, daughter Pooja and son Darshil are on their way to become Jain monks. This would mean that they give up all elements of householder life, including emotional attachments to other people, places or things.
Sanjay Shah, along with his family will take diksha, a Jain ritual of renunciation or initiation, on April 25 in Ahmedabad. Shah, a resident of Athwagate in Surat, has shut down his diamond unit to carry on his life as a Jain monk.

His daughter had received a gold medal from Prime Minister Narendra Modi for topping South Gujarat University in 2010. His son was about to complete studies of Chartered Accountancy and is dropping out to become a Jain monk.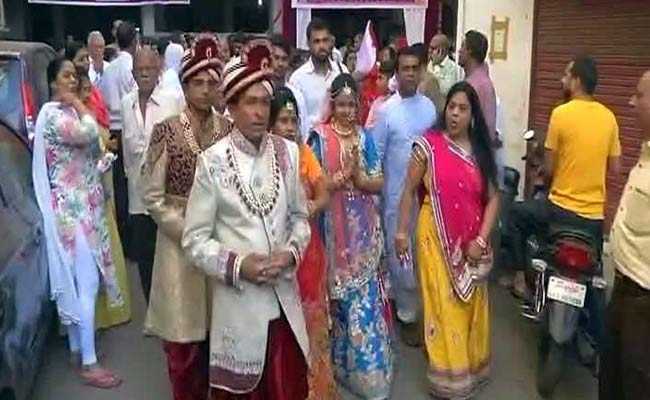 "Sanjay Shah is a diamond merchant and he, along with his family is going to adopt monkhood. We are very happy," said a relative.

On Friday, a 24-year-old chartered accountant belonging to an affluent Jain family became a Jain monk. He gave up on his career and a family business worth over Rs 100 crores to embrace monkhood.


Earlier,
a 12-year-old Surat based boy's family
also celebrated as he decided to become a Jain monk. "I am happy to take the path of truth shown by God," Bhavya Shah has said.
Jain monks vow to give up not just material possessions but also all passions or emotions that cause karma. The initiation ceremony features the ritual of
kesa-loca
- 'pulling out of the hair' - which indicates indifference to the body. The new monks and nuns perform the Five Great Vows called
maha-vrata
. The monk's daily routine broadly includes - the five great vows (
mahavrata
), the eight matrices of doctrine (
pravacana-matrka
), and the six obligatory actions (
avasyaka
).
(With Inputs From ANI)
Get Breaking news, live coverage, and Latest News from India and around the world on NDTV.com. Catch all the Live TV action on NDTV 24x7 and NDTV India. Like us on Facebook or follow us on Twitter and Instagram for latest news and live news updates.