Chennai:
Highlights
Superstars Kamal Haasan and Rajinikanth attend DMK event
Kamal Haasan has been critical of the ruling AIADMK
Rajinikanth has acknowledged he is in talks with political parties
For Tamil movie fans, on a scale of 1-10, this would count as 11. Superstars Rajinikanth and Kamal Haasan, who both inspire religious-like fervour, attended an event this evening organised by the state's main opposition party, the DMK. Kamal Haasan was seated on stage with party leaders including MK Stalin; Rajinikanth was front-row VIP.
Speaking at the ceremony to mark 75 years of the party's mouthpiece, 'Murasoli', 62-year-old Kamal Haasan did not rule out joining politics.
"On Twitter, I'm being asked if I would announce my political plunge today on this stage. If I wanted, back in 1983, when Karunanidhi sent a telegram asking me to join the party, I never answered him. Haven't been able to answer till now," he said.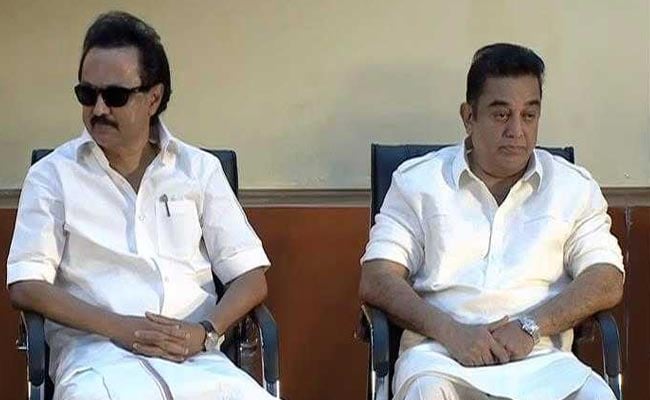 Last month, the actor appeared critical of the ruling party, the AIADMK, asking people to email ministers with complaints of what he described as widespread corruption. Then, at the launch of TV show
Bigg Boss
which he is anchoring, the actor said "There's corruption everywhere." Ministers responded by describing him as "a third-rate actor" and threatening tax audits and legal cases.
Rajinikanth in June made political hearts beat faster by announcing that he is contemplating a new day job. He asked fans to be ready to fight the good war and said he is in talks with different parties. In 1996 Rajinikanth had asked the people to support the DMK government and not its charismatic opponent J Jayalalithaa, famously declaring, "Even God can't save Tamil Nadu if Jayalalithaa comes back to power again" a move which he later described as "a mistake and an accident."
Sources said the 66 year-old, also known as "
Thalaivar
" (ultimate boss), would not speak at this evening's event.