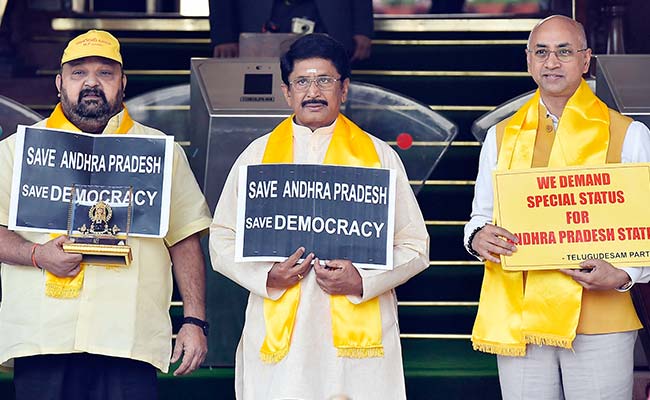 New Delhi:
Prime Minister Narendra Modi today spoke to Andhra Pradesh Chief Minister
and Telegu Desam Party Supremo N Chandrababu Naidu after he announced last night that his party has decided to pull out two ministers from the Centre. The announcement came following Finance Minister Arun Jaitley's statement saying it would be difficult for the government to give Andhra "special status". Mr Naidu, who had joined the NDA 46 months ago, said the two ministers will send in their resignations this morning as the centre had not kept its promises. The two ministers who would quit are aviation minister P Ashok Gajapati Raju and junior minister for science and technology Y S Chowdary. TDP lawmaker Ravindra Babu, however, told NDTV that pulling out the ministers was the first step and that the next logical step was to exit the alliance.
TDP lawmakers have continuously pressured the government ever since the union budget was presented, disrupting parliament by shouting slogans demanding that Andhra Pradesh be given central funding under special status. Chandrababu Naidu made the announcement after discussions with his party members of Parliament in Delhi.
Here are the LIVE Updates on the row over Andhra Pradesh 'special status':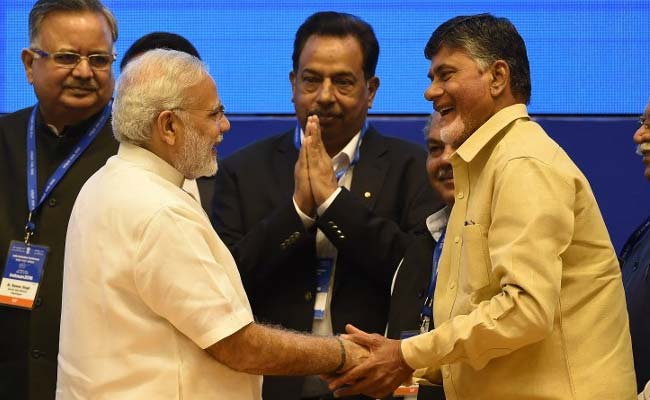 Read: PM Narendra Modi Speaks To Chandrababu Naidu, 2 Ministers Resign: 10 Points
The Telugu Desam Party's two ministers in the central government met Prime Minister Narendra Modi on Thursday evening and handed him their resignation. Shortly before that PM Modi spoke to Andhra Pradesh Chief Minister Chandrababu Naidu, who, during the 10-minute conversation, formally conveyed the TDP's decision to pull out its two ministers over its demand for "special status" for the state. Sources said the conversation was cordial and did not reflect current tensions. Mr Naidu had said on Wednesday night that he had called PM Modi but could not reach him. "My OSD spoke to his OSD but the prime minister did not come on line," he said.