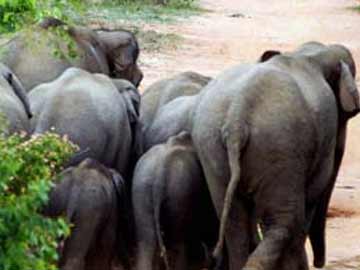 Coimbatore:
A 62-year-old man was seriously injured after a herd of eight elephants literally played throw ball, tossing him between them in Thadagam area on the city outskirts in the wee hours today, police said.
It was a horrifying sight as the elephants threw Muthusamy up and caught him with their trunks. He was, however, fortunate not to have been trampled by the jumbos which dropped him among the villagers who gathered on hearing his screams.
Muthusamy, a watchman, has been admitted to the government medical college hospital in Coimbatore, police said.
He woke up at 2 am on hearing some noise and was startled to see an elephant eating rice and other eatables in his kitchen.
He immediately woke up his son, daughter-in-law, and their two children who attempted to escape through the front door but were rattled to see seven elephants confronting them.
They ran helter skelter and in the melee one elephant caught hold of Muthusamy with its trunk and hurled him up only to be caught by another jumbo. This continued for a few minutes, police said.
Meanwhile, forest department officials rushed to the spot and managed to drive away the elephants to a nearby forest area.