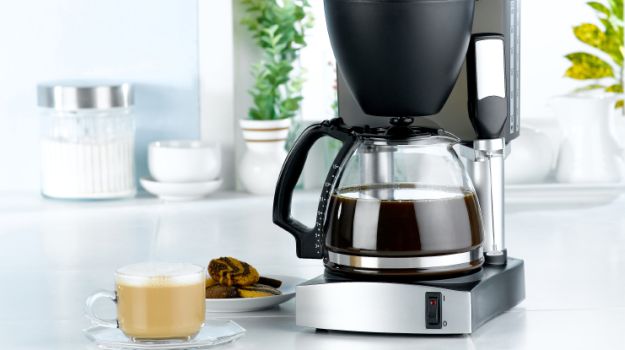 Ask any coffee-lover to define the drink, the only answer you will get is 'comfort'. From kick-starting the day to refueling us amidst a busy workday - a cup of coffee does it all. This is why a jar of instant coffee powder holds a permanent spot in most of our pantries. We agree these instant coffee mixes are the most availed options among all, but it also can't be denied that the aroma of freshly pressed coffee beans makes you fall for the drink all over again. Hence, we often stop-by the local cafes and coffeehouses to enjoy fresh and strong cup of coffee. What if we tell you that we found some coffee makers that can help you make a café-style coffee at home? Yes, you read it right.
Here're 5 Premium Coffee Makers That Can Be A Part Of Every Coffee-Lover's Collection. Take a look.
NESCAFE E-Smart Coffee Maker
If you are someone who has a soft corner for smart appliances, then this coffee-maker is a must-have in your kitchen. It is sleek, compact, and travel-friendly and can be controlled through phone (via Bluetooth). This kit comes with a leak-proof mug that helps you enjoy a cup of coffee on the go.
Bialetti Moka Express Espresso Maker
Love filter-coffee? Now make it at home with this amazing coffee maker. This coffee-maker looks classy and traditional and can help you make more than 2 full cups of espresso at one go.
Morphy Richards New Europa Coffee Maker
From espresso to latte - you can make any style of coffee in this coffee maker. It also comes with a special turbo nozzle that helps you get a satisfactory froth in your favourite cup of cappuccino.
Cafe JEI French Press Coffee Maker
For the ones who enjoy French press coffee, this appliance is a must have in your kitchen. It comes with a 4 level filtration system that helps you get your desired cup of coffee while sitting at home.
Wonderchef Cuppaccino Coffee Maker
Besides the regular espresso or cappuccino, this product also helps you make hot chocolate and your favourite café-style cold coffee at home, in just 3 minutes. It is easy to clean and maintain, making it a perfect appliance for daily use.