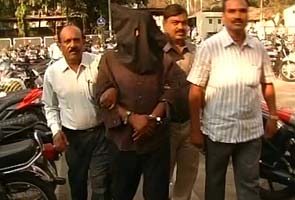 Pune:
Reflecting public anger, the Pune Bar Association has refused to defend Santosh Mane, the state transport bus driver who went berserk on a busy street here during morning rush hours on Wednesday, killing nine people and injuring 30 others.
When Santosh Mane was produced before the court on Thursday, the lawyers refused to represent him. The lawyers have unanimously decided not to represent Mane on 'humanitarian' grounds.
"We have taken this decision on humanitarian grounds, and not as lawyers. The incident took place in our home. Nine innocent people were killed by Santosh Mane. We are as angry as the people of Pune. But as a law, every accused is entitled to a lawyer and we understand that. But as a human, if somebody kills people in our home, should be defend such people? No," said Secretary of the Pune Bar Association.
"Mane has the right to find a defence lawyer during his trial. But we decided that we will not represent him before that," Milind Pawar, member of privilege committee of the Bar Council of Maharashtra and Goa, had told IANS on Thursday.
"What he did cannot be justified, whether or not he was in a sane state of mind. We have all decided we will not represent him on moral grounds," he added.
The incident happened at 8:15 am on Wednesday when Mane climbed into an empty Pune-Satara-Pune bus at the Swargate ST Depot and zoomed off, driving at a breakneck speed on the wrong side of the road, taking the oncoming vehicles and people unawares.
(Read: Family mourns teen's death)
According to police, Mane's high-speed drive lasted nearly 25 km during which he rammed stationary and moving vehicles en route and ran over pedestrians before being nabbed at the Dandekar Flyover near the Nilayam Talkies.
Mane had hit an electric pole first and then a divider which stalled the bus and facilitated the police in getting hold of him, said an official.
The Pune Bar Association had also refused to represent the accused in the German Bakery case.
(With inputs from IANS)