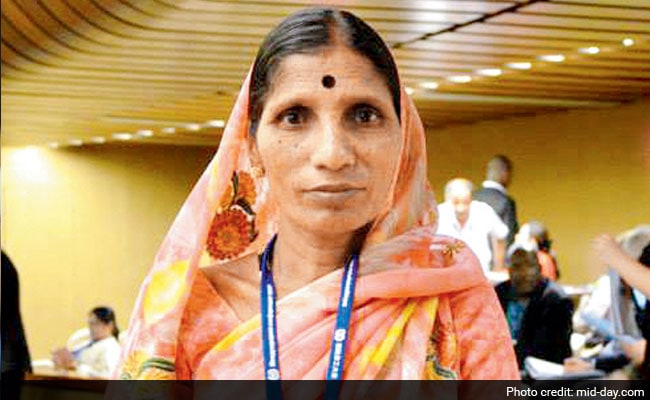 Pune:
Suman More's life has been a rags-to-recognition journey. As an illiterate, impoverished ragpicker from Pune, the 50-year-old could never have imagined that she would one day be the centre of attention at a conference held all the way in Geneva by the International Labour Organisation. Just the past fortnight, over 2,000 experts from all over the world listened enthralled, as she spoke about her work and the challenges she, and many like her, faced in finding acceptance and a voice in society.
"I thought it was just us ragpickers who were not treated properly, but during the conference, I learnt about many other people - like hairstylists and weavers - who were also struggling to find their voice," said Suman, who has spent the past 37 years collecting and sorting waste.
"There were more than 2,000 people from across the world and I was the only one in a sari. The most difficult issue was sitting in the air conditioned room, as I am not used to it. But I managed. Everyone appreciated me and the Indian culture, and the next day, they even tried on my saris," she added.
At the 104th session of the International Labour Conference held from June 1 to 13, Suman was one of the esteemed speakers, invited to speak about her work to an elite gathering of experts and leaders from around the world. This is starkly different from the past, when she could not even find a job as a cleaner or labourer because of her caste and was harassed for being a ragpicker.
Suman hails from Kalamb village in Usmanabad district, where her parents would work in farms for daily wages. When a drought hit the village, however, jobs began drying up and Suman and her family moved to Pune in search of work. Her husband was from the potraj community (a tribe of nomads) and would barely gather enough alms to provide one meal a day. Suman was refused jobs on account of her caste and eventually began picking up waste like iron rods and other scrap material to eke out a living. After collecting scrap for nine hours, she would make barely R30-40 a day, far short of what was needed to keep a family of six afloat.
"I came to Pune so we could beat the hunger we had experienced in our village. But it was hard; we couldn't find jobs because of out caste, so I started collecting waste. Later, I realised that if the scrap is segregated properly, it can fetch a better price," Suman recalled.
Years later, this same lesson would come into play when ragpickers joined hands with the local municipality to manage the city's waste. Instead of the corporation collecting and moving the garbage to waste management centres, ragpickers from across the city do the task both faster and more economically. Since this tie-up, life has become smoother for waste collectors who faced great harassment from citizens and the police in the early days.
"While picking up the waste, many a time people use to complain or call us thieves and we were dragged to the police station for no reason. Many a time, the police used to humiliate us as well," said Suman, adding that things began to improve after activists set up the organisation Kagad, Kach, Patra, Kashtakari Panchayat (KKPKP) to fight for ragpickers' rights. Where wastepickers would earn about R20-40 a day in the past, they now earn R5,000 a month, are accorded more respect and are even provided with identity cards to help them do their jobs with dignity.
Suman wanted to ensure her children never had to meet the same fate, and scrimped and saved to put her kids through school.
"I was illiterate but I did not want my children to have a similar life, so I worked day and night and we skipped one meal a day to make sure they went to school," she said, proudly adding that of her four kids, one is a journalist with a double Masters degree, another is a graduate preparing for the civil services exams, a third son is a Bcom student, while her daughter is married.
Although her children are now doing well and the family even owns an apartment in Pune, they continue to live in Suman's old home in Gultekdi, a shanty that has now been converted to a brick-and-mortar two-room house.
'Proud of her'
Suman's daughter-in-law Shweta, who teaches at a Pune college, said, "We all tell Aai (Suman) not to work as we are earning well, but she tells us her work gives her joy. All her salary is used to support the education for underprivileged kids in the slum areas, and she personally visits them to ensure they go to school. I am proud of her."