Humorous repartee has been as normal in both Houses of parliament as heated debates, interventions, accusations and interruptions. The best part of the humour is that it happens extempore, and at times comes from unexpected quarters. One such incident happened last week (on the 7th) when, amidst interruptions, Prime Minister Narendra Modi 'pleaded' with the Chairman of Rajya Sabha to spare Renuka Chowdhury for her loud and embarrassing laughter.
"Humour in parliament makes an interesting subject of study. In a parliamentary democracy based on party system, parliament often functions under great stress and strain and the atmosphere in the House for part of the day remains surcharged. But even in the midst of confrontation, one comes across instances of wit, wisdom and amusing remarks. Most of these are made in lighter vein and serve as oasis, as it were, in the dry desert of verbal duels. None of these exchanges are pre-rehearsed or pre-meditated and that is precisely why they are so good. They are the products of lively and vivacious minds reacting instantly to a particular situation; words often uttered by persons who could normally claim no particular ability to be witty. Cutting across the party lines or political differences these crisp observations often serve the purpose of lightening the atmosphere in the House which otherwise could be serious and tension-ridden. Without these, the debate and proceedings of the House would be sterile indeed," writes Sudarshan Aggarwal, former Secretary General RS in the preface to a
book on wit and humour in the Upper House
.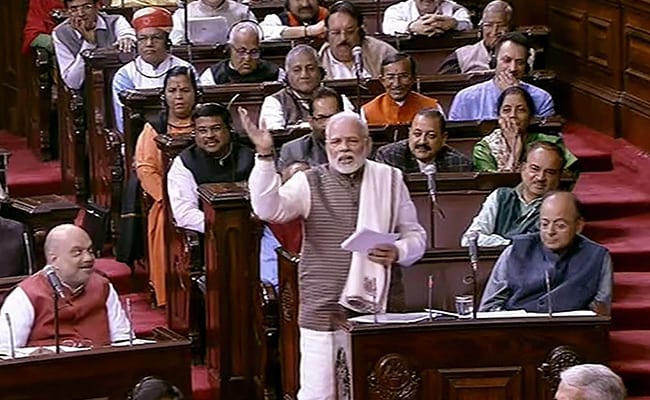 During a discussion on delayed Air India flights in the late 70s, Smt. Yashoda Reddy was interrupted by Shri. Bhupesh Gupta who said, "It is better to be delayed than be dead," The Deputy Chairman (DB Thengdi) told Bhupesh Gupta that he should not interrupt ladies. Sympathising with Gupta, Yashoda Reddy remarked, "Unfortunately for Mr. Gupta, he has no ladies to interrupt him in his house. So he seeks to interrupt on the floor of the House." This remark of Smt. Reddy led to this further interesting exchange in the House:
Shri. MP Bhargava: It is his abnormal behaviour.
Smt. Yashoda Reddy: He is quite normal, except on occasions. I have seen Mr. Gupta for 13 years and it is a good period to judge a person.
Shri. Bhupesh Gupta: The only thing I would ask the lady is, can experienced men only interrupt? She says that I have no ladies at home.
Smt. Yashoda Reddy: My comment came because somebody said: 'Do not interrupt ladies. I said, 'Give him this much of leniency as he has no ladies in his house.' I meant nothing more.
After all these exchanges, the Rajya Sabha functioned normally and no social media exchanges happened. No one accused veteran Communist leader Bhupesh Gupta of being a misogynist.
In fact, in another exchange of words in the early 90s, involving none other than Renuka Chowdhury, one member used the word
"chandika".
Shri AG Kulkarni: Sir, I only request through you that a friend and a fair lady Renuka in mythology is a very sober lady. She is not a
Chandika
(ferocious Goddess). She should be sober.
The vice-chairman (Jagesh Desai): She is sober. Sit down please.
Renuka Chowdhury (in Hindi):
Aap ke liye toh mein kuch bhi karoongi, mein fida hoon
(I will do anything for you ...I am all for you). The word
"fida"
(Urdu) is commonly used in the Telangana and Hyderabad area to signify "being impressed" by something or someone. In fact, no one called for an apology from AG Kulkarni (Congress) for a 'sexist' comment.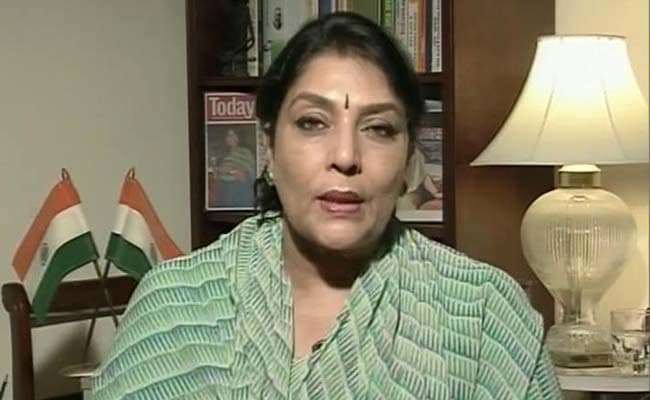 Some MPs like Chitta Basu, Bhupesh Gupta, Atal Behari Vajpayee and Saroj Khaparde have been at the receiving end for their single status.
Even Prime Ministers were not spared when it came to making comments about their appearance, all in a lighter vein of course. During a supplementary question on the activities of Rashtriya Swayamsevak Sangh (RSS), the ever jovial and good-humoured Piloo Mody, addressing the Home Minister, said, "Do not look towards the Prime Minister. She may be more attractive. Look towards me." Prime Minister Indira Gandhi smiled and quickly retorted that Piloo Mody had no difficulty in attracting attention here or anywhere else.
The Congress party's consternation about the Prime Minister's speech last week is understandable. An orator par excellence, Narendra Modi brought back memories of Atal Behari Vajpayee in parliament. He touched upon issues that will make the Congress look small in the eyes of the people. The fact that the Congress has claimed credit for everything in the country from democracy to Independence and monetised this claim to its fullest advantage needs no proof. Modi's reference to ancient republics of the Buddhist era is part of India's democratic institution building history.
If the Congress wants to appropriate all credits or democracy, it stands condemned also for the atrocities committed during the dreaded Emergency. The fact that Article 356 was used unabashedly used, or rather misused, by the Congress to dismiss non-Congress governments not once but almost 90 times is all part of parliamentary history.
Modi's reference to the role of the Congress in Partition has stung that party badly, but the truth, according to many historians, is that the Congress leaders have themselves accepted that Partition was avoidable but some leaders had no vigour to engage in another prolonged fight for freedom. Mahatma Gandhi and Sardar Patel had vowed to resist Partition. (Vivisect me before vivisecting India, Mahatma Gandhi had said). The history of Partition will continue to throw up many surprises and the Congress cannot escape blame for the sins of commission and omission of their leaders' role during that period. By mentioning Partition and the saga of the unification of states by Sardar Patel, with special reference to the messing up in Jammu and Kashmir by Pandit Nehru, Modi has brought these issues into public domain. A healthy debate on these issues will strengthen democracy and may throw up solutions that the political class has been incapable of finding till now. This is akin to the BJP's idea of a nationwide debate on Article 370 and triple
talaq
.
In the bargain, if the shenanigans of vote bank politics played by the Congress are exposed, the party must accept them. In a way, that may pave the way for the cleansing of the party and facilitate the Congress to begin afresh with a clean slate.
(The author is a commentator on economic, political and strategic issues.)
Disclaimer: The opinions expressed within this article are the personal opinions of the author. The facts and opinions appearing in the article do not reflect the views of NDTV and NDTV does not assume any responsibility or liability for the same.