Is the ghost of Catelyn Stark haunting Winterfell? The Internet seems to think so. Redditor
GreensGal pointed out
a day ago that in season 7, episode 4 of Game of Thrones, a shadowy figure with wavy auburn hair, wearing green robes, appears in the background during the now-famous Arya and Brienne sparring session, giving rise to the speculation that it is the ghost of Catelyn Stark. "... At the word MOTHER you can see a woman in a long green dress w/ long auburn wavy hair with her head down walking past the background gate, resembling Cat," writes Reddit user GreensGal in his post, further strengthening their argument.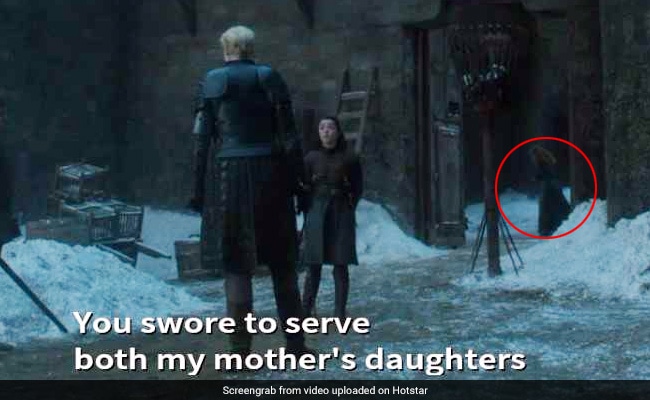 She appears first when Arya reminds Brienne of her vow to Catelyn
And then she seems to appear again for a split second
The appearance of the ghost of Catelyn Stark is freaking social media out:
E esse fantasma da Catelyn Stark passando ao fundo? pic.twitter.com/Rqx541ClSc

- Willian (@willtuber) August 10, 2017
o povo falando que a mulher passando la atrs é o fantasma da Catelyn, nao sei se dou risada ou se fico com medo pic.twitter.com/LlXGRQq0XD

- isa (@i_s4bela) August 10, 2017
Watch carefully at 1:14 & 2:02. Is that the ghost of Catelyn Stark? https://t.co/i0Di7In3M8

- Dawna Raver (@DawnaRaver) August 10, 2017
The speculation that it is indeed the ghost of the Lady of Winterfell is further strengthened by the fact that in the books by George RR Martin, Lady Stark returns as a sort of resurrected figure bent of revenge and adopts the name Lady Stoneheart. The character of Lady Stoneheart was eliminated in the TV series, but perhaps this is a nod to her?
"I mean... I don't think it's Catelyn but it seems like a pretty big coincidence. Especially considering the Lady Stoneheart thing. So maybe the show's gonna incorporate that in a different way,"
writes
one Reddit user.
Is Lady Stoneheart in Winterfell???#GoTS7e4pic.twitter.com/O1OrPDWGQP

- jmt981 (@JoeTorres81) August 9, 2017
What do you think? Is Lady Stoneheart in Winterfell? Let us know using the comments section below.
Click for more
trending news