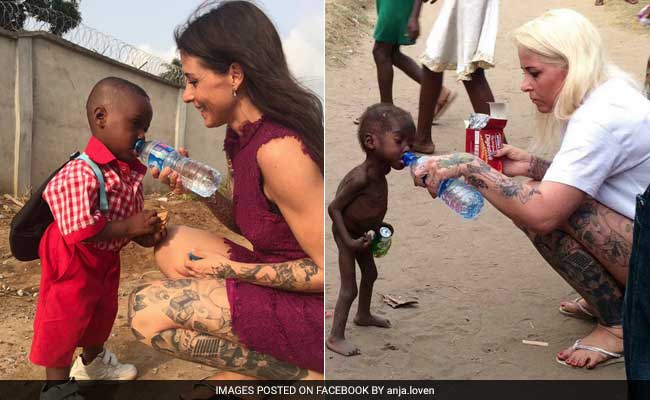 Highlights
In January last year, pictures of a toddler being rescued went viral
A year since, Hope has made a phenomenal recovery and begins school soon
His rescuer has re-created an old photo to celebrate the moment
In January last year, pictures of an abandoned toddler being rescued by aid workers in Nigeria went viral. The emaciated boy, barely two or three-years-old, had been living on the streets after he was accused of being a 'witch'. A year since Hope's rescue, Danish aid worker Anja Ringgren Loven has re-created an old picture to celebrate him starting school. The little boy's recovery and transformation is so phenomenal, this post is now going viral. Shared on January 30, on the anniversary of Hope's rescue, the post has collected over 31,000 reactions and more than 7,000 shares on Facebook - and very much counting.
"On the 30 of January 2016 I went on a rescue mission with David Emmanuel Umem, Nsidibe Orok and our Nigerian team. A rescue mission that went viral, and today it's exactly 1 year ago the world came to know a young little boy called Hope," says Ms Loven on Facebook. "This week Hope will start school," she adds.
The post, shared with two pictures, shows the startling contrast of how Hope looked when he was rescued compared to how he looks today.
Not only this, Ms Loven has shared several other posts to show how Hope is now a happy and healthy child.
Last year, Ms Loven has shared
this post
about Hope's rescue. "Thousands of children are being accused of being witches and we've both seen torture of children, dead children and frightened children," she said on Facebook, adding: "This footage shows why I fight."
Belief in witchcraft is widespread across sub-Saharan African countries, according to a United Nations Children's Emergency Fund (UNICEF)
report
. Children who are accused of witchcraft, are stigmatized and discriminated for life.
Now, people cannot stop praising Ms Loven and all her efforts.
"Anja Ringgren Loven I can't find a word to describe how I feel for you....May God almighty keep blessing you and always give you strength and sound health to continue your good work.....You gave hope to the hopeless!!!! Have so much respect for you..Stay Blessed my good fellow..." says one commenter on Facebook. "God bless you and your mission. Glad to see Hope (and all the children) growing up loved, well fed, happy, having fun, and going to school," says another.
Ms Loven currently runs the African Children's Aid Education And Development Foundation with her partner David Emmanuel Umem.