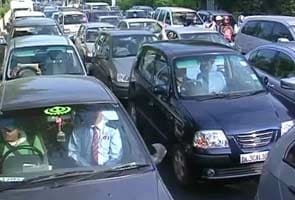 Traffic snarls were seen at DND toll plaza here with commuters stranding at the gates due to shortage of change after the hike in toll rates for some categories of vehicles become effective from today.
Toll prices increased from Rs 10 to Rs 11 for two wheelers and Rs 20 to Rs 22 for cars. Due to shortage of coins queues over a kilometer-long were formed on both Noida and Delhi ends.
To ease the problem, the Noida Toll Bridge Company Limited (NTBCL), responsible for operating the Flyway, has introduced coupons of Rs 55 for two wheelers and Rs 110 for cars for five trips.
Instead of paying the toll daily, commuters also have an option of buying silver and gold cards - a system under which by paying an extra fee, commuters can pass through the toll booth without halting.
"I am a regular commuter and preferred daily payment till now. Today, I am buying a monthly gold card," Dhiraj Sharma said.
Change has been arranged for those who do not want to buy coupons and it is hoped that traffic will move smoothly in the next few days as more people go for the other options, an NTBCL official said.