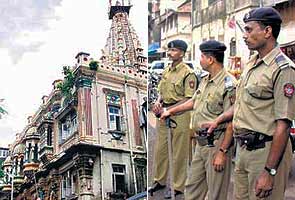 Mumbai:
With Navratri festivities just two days away, preparations are on in full swing at the two most popular temples in the city -- Mahalaxmi temple and Mumbadevi temple. Along with the customary ecclesiastical arrangements, the authorities are going the extra mile this year to make safeguard their temples and devotees from possible terror strikes.
At both temples, where the footfall surpasses 50,000 on each day of the nine-day-long festival, major improvements have been made on last year's arrangements -- ranging from the number of security guards and cops on duty to the number of surveillance cameras on watch.
Mahalaxmi temple
The Mahalaxmi temple has appealed to the visiting devotees to divest themselves of their mobile phones this year, so as to minimise the security hassles that they otherwise have to face while entering the temple premises. The authorities have roped in about 1,000 volunteers, who will help control the crowds in two shifts.
The number of cops deployed at the temple premises has also gone up from last year.
In comparison to the 36 CCTVs installed in the temple premises last year, over 50 cameras will be keeping a watchful eye over the devotees this year. A room has been earmarked for the security personnel to monitor the cameras.
Sharadchandra Padhye, manager of the Mahalaxmi Temple Charities, said, "We have appealed to the devotees to avoid carrying cell phones when they come here for darshan. This would help us minimise the duration of time spent on security checks. Moreover, the incidence of pick pocketing will also decrease. More cops than last year's 250 will be on guard at the temple premises. We have also increased the number of CCTV cameras this year."
Mumbadevi temple
Temple authorities too have upgraded their security system this year, in the wake of the 13/7 blasts. In comparison to the 30 security guards who guard the temple premises on regular days, 60 guards will be manning it during the festival. The number of policemen patrolling the area has risen from 50 to 70 this year.
Some 200-300 volunteers from various religious institutions will help manage the crowds. Also on standby will be four doctors and an ambulance, so that prompt action can be taken in case of an emergency.
Hemant Jadhav, manager of Shree Mumbadevi Mandir Charities, said, "We have increased the number of security guards. The significant security measures would be handled by the police officers, who will be present at all hours. Sixteen surveillance cameras will be monitored in by our own security-personnel. Doctors will also be present to tend to medical emergencies."