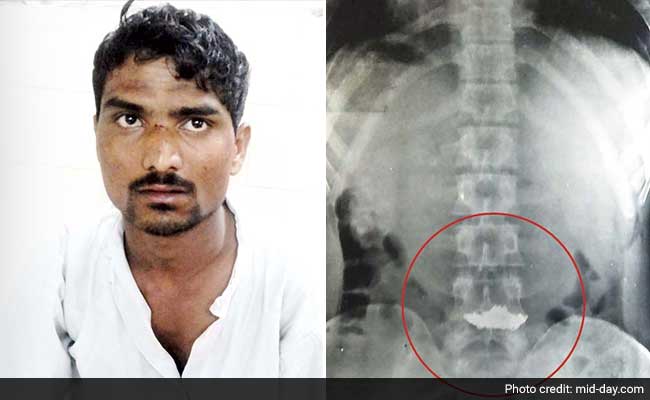 Mumbai:
If you think you're having a bad day, just pause to think of Anil Yadav. The 30-year-old may soon have to excrete out a 2.5-tola gold mangalsutra, with a large pendant, that he had stolen and then swallowed to avoid getting arrested.
Yadav did land in the police net, however, and doctors are now feeding him bananas and have put him on a special liquid diet in a bid to make the necklace come out of his body the natural way. But the large pendant seems to be hindering the process.
THEFT
On Monday afternoon, Rajeshri Mayekar (52), a resident of Pratiksha Nagar in Sion was walking back home. She was wearing a 2.5-tola (about 25 gram) gold mangalsutra, with a large pendant attached to it, worth Rs 63,000.
When she was close to GTB Nagar station,Yadav, a resident of the Vashi Naka area, snatched the mangalsutra and ran. Mayekar screamed for help and locals gave chase.
The Antop Hill beat chowkie was also alerted and API Rahul Pawar and his team also began chasing the accused. Yadav was finally caught after a long chase and he was beaten up by the locals before being handed over to the cops.
VANISHED
"We searched him thoroughly in the police station but did not find the mangalsutra. Some of the locals who caught him told us they had seen him swallowing something, but Yadav refused to reveal anything.
In the evening, we took him to Sion Hospital, where doctors took X-ray scans. We were shocked to find the mangalsutra stuck inside his food pipe in the chest area. It was clearly visible," said API Pawar.
Doctors gave Yadav a lot of liquids and fed him several bananas, making the mangalsutra move from the oesophagus (food pipe) to the stomach, where it is now stuck. "The mangalsutra has a huge pendant, which is causing problems," said an official.
Pawar said, "I had arrested the same accused in 2013, when I was posted at the RCF police station. He is a history-sheeter and a convicted felon. Swallowing a mangalsutra, however, is a rare thing."
WAY FOWARD
The doctors are still giving him special liquids and bananas. If the mangalsutra does not come out the natural way by Wednesday morning, they will perform a surgery on him to remove it.