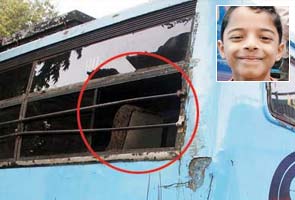 Mumbai:
"Had there been a bus attendant in the school bus, this tragic incident would have never claimed our beloved Viraj," said Ritesh Parmar, uncle of the deceased 9-year-old.
The boy had stuck his head out of his bus window to wave goodbye to a friend, when it started moving; Viraj's head rammed against metal board, smashing it and causing him to bleed to his death within minutes.
The tragic death of the young boy has raised questions about the level of safety measures maintained by the administrative body of Shri Vallabh Ashram English Medium School in Sion.
In a recent initiative, the RTO had stipulated stringent norms for all schools buses - they were to be painted yellow in colour, not more than eight-years-old, and supplied with qualified attendants. Their windows were to be fitted with rods in order to prevent kids from enthusiastically or absent-mindedly shoving their heads or limbs out.
The bus in which Viraj lost his life, however, was hired by the school on contract basis. It was not painted in the regulation yellow hue. Neither had extra rods been fitted on the windows. No female attendant was appointed for the bus, claimed parents of the school.
Ritesh added, "The school bus was not in a good condition. The boy died because they did not bother to fix extra grills to the windows. We have filed a case against the management for not having kept the buses in good condition to safeguard the safety of the children. There was not even an attendant in the school bus."
Another parent of the school said, "Strict action should be taken against the school for not hiring good buses.
When the government has listed out the safety norms, then why didn't they bother to implement them?"
The Other Side
Rosy Singh, principal of the school said, "We are in a state of shock over the sad demise of our student. I was at Sion hospital all day. It is true that we don't have grills fixed to our school buses, but we cannot further talk about this."
Anil Garg, chairman of the School Bus Owners' Association in Mumbai said, "The fault is not of the driver, but that of the bus owner, who didn't bother to fix extra rods. The school should have checked the bus thoroughly before hiring it to ferry its students."
Guidelines for school buses
A transport committee to be set up in every school across the state
Exclusive bus stops for school buses
All school buses must sport yellow colour or yellow bands
Ban on vehicles over that have been plying for more than 8 yrs; 15 in case of CNG
Buses must have details of children on board and a route map
Must be equipped with first aid boxes, fire extinguishers, etc
Can't speed over 40 kmph within city limits and 50 kmph on highway
Driver must have at least five years' experience and a valid driving licence
Female attendants are mandatory for carrying girl students
Operators should acquire special permits
District committees need to monitor the safety norms
RTO speak
N K Patil, an RTO official, said, "According to the rule made for the school buses, the school management should be held responsible for not maintaining proper school buses."
Sunil Chatham, deputy director of school education, remained unavailable for the comment.
Get Breaking news, live coverage, and Latest News from India and around the world on NDTV.com. Catch all the Live TV action on NDTV 24x7 and NDTV India. Like us on Facebook or follow us on Twitter and Instagram for latest news and live news updates.