Lucknow:
In photos that have gone viral on social media, an Uttar Pradesh Minister, Swati Singh, appears to be inaugurating a beer bar, in the presence of senior officials. Chief Minister Yogi Adityanath has demanded an explanation.
The "Be The Beer" bar opened on May 20 in state capital Lucknow. Mr Singh, the Minister in charge of Women's Welfare, Family and Child Welfare in the UP government, is seen cutting the ribbon and posing with what appears to be the menu card. An Indian Police Service (IPS) couple - Unnao Superintendent of Police Neha Pandey and her husband Gaurav Singh, a Rae Bareli police officer - were also present. They have also been asked for an explanation.
"The Chief Minister has taken cognizance of the minister inaugurating a beer bar in the presence of senior officers and has asked her to clarify her stand," an official spokesman said on Monday night as the photos were widely shared.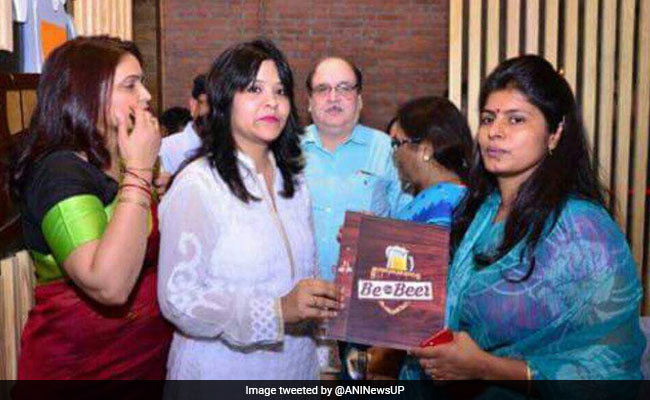 Ms Singh is the wife of Dayashankar Singh, who was suspended by the BJP for allegedly making derogatory remarks against Bahujan Samajwadi Party chief Mayawati.
The photos have been seized by the opposition for a new offensive against the Yogi Adityanath-led BJP government.
"This aptly shows the contradictions in the ruling BJP... They say one thing, but practice something else," said Samajwadi Party spokesperson Rajendra Chaudhary.
Mr Chaudhary said what the minister did was particularly offensive at a time "women in Uttar Pradesh are at the forefront of protests against liquor".
Congress leader Dwijendra Tripathi said this incident shows the real "
chaal
(action),
charitra
(character) and
chehra
(face)" of the BJP government.
"They talk to impress the public... Their leaders talk about prohibition while a minister goes to inaugurate a beer bar," he said, questioning whether the bar was licensed.
In Ms Singh's defence, BJP spokesperson Rakesh Tripathi said it had to be seen whether she was at the event to "promote entrepreneurship among women" as the bar is apparently owned by one.
"It has to be known under what circumstances she had taken part in the inauguration... It is said that a woman is the owner of the outlet and the minister was there to promote entrepreneurship among women," he said.
(with inputs from PTI)
Get Breaking news, live coverage, and Latest News from India and around the world on NDTV.com. Catch all the Live TV action on NDTV 24x7 and NDTV India. Like us on Facebook or follow us on Twitter and Instagram for latest news and live news updates.