Highlights
Roads watered down to prevent dust for Chief Minister's drive
Chief Minister says officials to be punished
Ministers touring Europe at a time of drought, alleges opposition
Bagalkot:
It was not exactly a move of a man of the people. Hours before Chief Minister Siddaramaiah toured parts of North Karnataka that are under siege from drought, precious water was squandered on roads yesterday to ensure his drive would be dust-free.
Mr Siddaramaiah, who belongs to the Congress, has told local media that officials who ordered the watering of roads will be penalized.
Opposition leaders have appropriated the incident to accuse the government of insensitivity at a time when the state is dealing with a drought for the third consecutive year. "Ministers are touring Europe instead of dealing with their constituencies. For example, Ramalinga Reddy," said S Prakash of the BJP, referring to Mr Siddaramaiah's Transport Minister.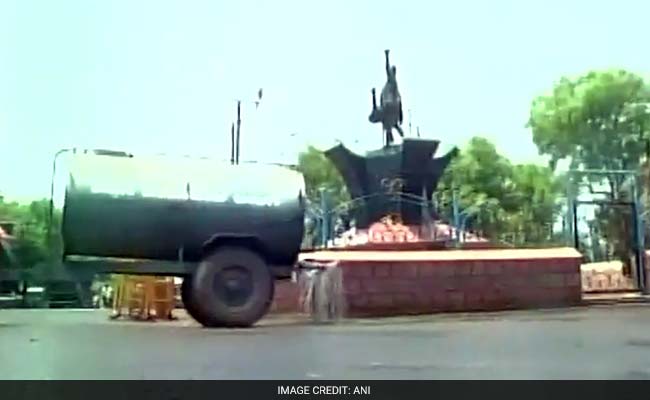 Since January 2015, more than 1,000 farmers have killed themselves in Karnataka, unable to cope with the relentless combination of drought and debt.
Last week,
thousands of litres of water were wasted in preparing a helipad
in Maharashtra for the touch-down of minister Eknath Khadse in Latur, which has been seared by drought. Then, minister
Pankaja Munde sponsored criticism over her selfies
taken in Latur while inspecting irrigation projects meant to help farmers. Both controversies were invoked by Mr Siddaramiah's party in his defense.
"The Chief Minister and his whole team have been travelling in the field to manage the drought, so we should encourage this," said Rizwan Arshad of the Congress. "I want to say that the areas in which the BJP is there, the leaders are taking selfies...and making a helipad."
Last month,
Mr Siddaramaiah was forced to defend a 70-lakh watch
he was wearing as the opposition attacked him for a penchant for luxury. The Chief Minister described it as a gift from a friend that he would declare in his list of assets to appropriate officials.