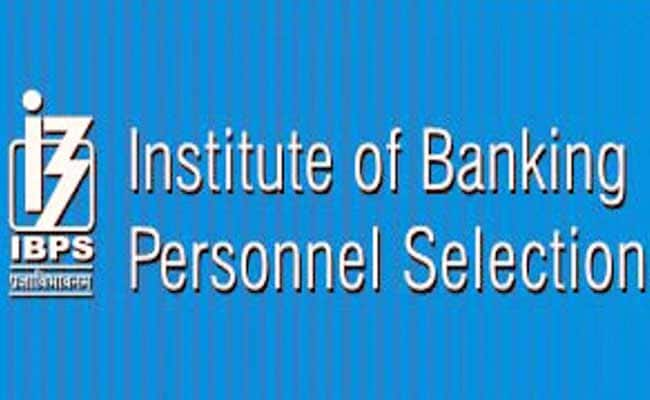 New Delhi:
One of the biggest bank job exams in the country is conducted by the Institute of Banking Personnel Selection (IBPS), an autonomous body for conducting recruitment exams for nationalised banks. Graduates between 20-28 years of age are eligible to participate in the exam. Proficiency in the official language of the State/ Union Territory is preferred for this job.
Currently IBPS is conducting the 9th edition of the clerk recruitment. The next exam is scheduled to be held in December, however due to COVID-19 lockdown IBPS may revise the exam dates.
Updates on IBPS Clerk exam can be found at the official website ibps.in.
The common recruitment process begins with announcement of recruitment schedule and beginning of registration. Application form is made available on the official website of IBPS at ibps.in for eligible candidates to fill and submit it within a given deadline.
In the next phase IBPS issues admit cards to candidates whose applications have been found suitable for the recruitment. the admit card has the details of the exam centre, city, time and shift of the exam. IBPS receives huge numbers of applications for the recruitment, therefore the exam is held in shifts.
The selection to clerk posts through IBPS exam is through two phases-preliminary exam and main exam. these exams are held in succession. Candidates who qualify the prelims are eligible to appear for the main exam.
The recruitment concludes within 7-8 months of announcement.
Click here for more Jobs News
World
Coronavirus has spread to 188 countries. The total confirmed cases worldwide are 59,31,293 and 3,65,025 have died; 30,70,367 are active cases and 24,95,901 have recovered as on May 30, 2020 at 12:29 pm.
India
In India, there are 1,73,763 confirmed cases including 4,971 deaths. The number of active cases is 86,422 and 82,370 have recovered as on May 30, 2020 at 8:00 am.
State & District Details
State
Cases
Active
Recovered
Deaths

62228 2682

33133

26997 8381

2098 116

Sri Potti Sriramulu Nell*

168

3436 185

1150 83

2226 101

60 1

2781 248

1839 187

894 60

48 1

69

28

41 3

0

20246 874

8779 100

11313 765

154 9

1150 62

577 51

565 10

8 1

415 16

314

100 17

1 1

Jayashankar Bhupalapally

9

2425 169

973 129

1381 36

71 4

1723 63

829 63

887

7

7645 192

3042

4269 219

334 13

15934 372

6343

8611 608

980 20

8365 298

2937

5244 427

184 4

1721 217

762 158

940 59

19

7284 114

2842 84

4244 29

198 1

17386 1105

9142 672

7846 351

398 82

1024 168

895 147

125 21

4

1

1

0

0

3376 80

2150 80

1211

15

4813 277

2736 163

1775 107

302 7

North And Middle Andaman

1

33

0

33

0

51

37

14

0

3

2

1

0

25 7

25 7

0

0

2

2

0

0

511 42

290 37

216 4

5 1

251 9

80 5

171 4

0

74 1

31 1

43

0

2164 128

1261 111

875 16

28 1

295 19

203 2

87 17

5

Shahid Bhagat Singh Nagar (Nawanshahr)

95

2197 39

206 34

1949 3

42 2

716 216

609 192

102 23

5 1

59 4

51 1

8 3

0

289 1

96 1

189

4

27 6

14 6

12

1

1

0

1

0

0

0

0

0