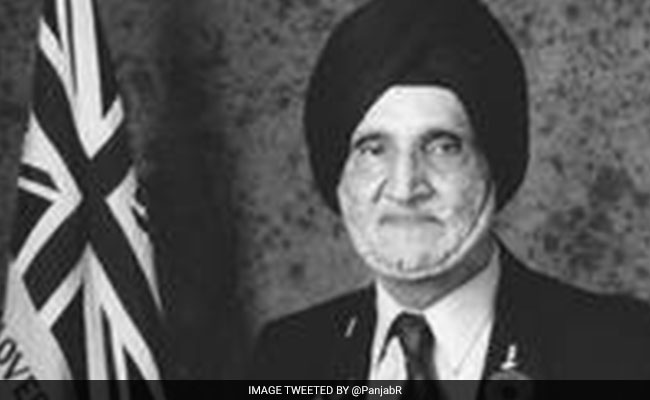 Toronto:
Pritam Singh Jauhal, a 95-year-old World War II veteran and a prominent figure in the Sikh-Canadian community who fought and won a high profile battle to allow Sikhs wearing turbans into the Royal Canadian Legions, has died.
Lt-Col Pritam Singh Jauhal passed away peacefully in Surrey on Sunday, his daughter was quoted as saying by The Globe and Mail newspaper.
Mr Jauhal spent 38 years in the Indian Army and Central Reserve Police Force, retiring with the rank of lieutenant-colonel before immigrating to Canada to be with his children in 1980.
He shot to prominence in 1993 when he was prohibited from entering the Newton Legion on Remembrance Day. At the time, the establishment would not allow turbaned Sikh veterans on the premises.
Legion officials insisted that Mr Jauhal and other Sikh veterans who had served the British Empire in the Second World War could only come in after removing their turban as rules forbade veterans from wearing headgear.
This was despite the fact that female veterans from England were allowed to go in wearing their berets.
He wrote an open letter listing turban wearers who had won the British Empire's highest military decoration. "Good enough for the Victoria Cross. Not good enough to earn a seat among the heroes of the Newton Legion," he wrote.
But the national headquarters of the Royal Canadian Legion issued a formal apology and condemned the actions of the local officials.
Sandhra, who co-authored Mr Jauhal's 2013 memoir, 'A Soldier Remembers', said he was a proud man who insisted that he wouldn't have launched his campaign but for the fact that he had been invited to the Legion then turned away.
The foreword of the book was penned by a reserve army officer who is now Canada's Defence Minister, Harjit Singh Sajjan.
"(Mr Jauhal) could have just gone home and tried to forget the insult, but instead he readied himself for another battle; a battle that he fought with his wits by attacking the ignorance with education," Sajjan, an Indo-Canadian Sikh, wrote.
Mr Jauhal was the eldest of the four children of farmers in the Jalandhar district of Punjab. He is survived by his son and a daughter.