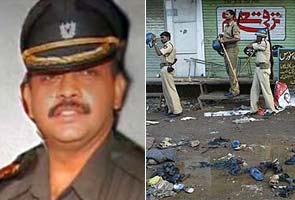 New Delhi:
His arrest two-and-a-half years ago shook the foundation of what has been one of India's most secular institutions. The Indian Army. Lt Col Prasad Shrikant Purohit was accused of conspiracy for terror and murder, the first time that an Armyman had been booked for a terror act.
An aberration, said Armymen. Others shook their heads in disbelief.
Neighbours said they knew Prasad Purohit as a soft-spoken man and superiors in the Army remembered a bright, hard-working recruit. In all conversations with people who knew or had interacted with Purohit, a common picture drawn was of a zealous young man with a marked patriotic fervor.
Purohit belongs to a cultured, middle-class Maharashtrian Brahmin family. The son of a bank officer, he was born in Pune and got his education from the Abhinav Vidyalaya and Garware College there.
In 1994, Purohit was commissioned into the Maratha Light Infantry after passing out of the Officers' Training Academy at Chennai. He was serving in Jammu and Kashmir when he fell ill and was medically downgraded. At that time he was shifted to Military Intelligence.
Between 2002 and early 2005, Purohit was part of very important counter-terrorism operations in Jammu and Kashmir as part of MI-25 or the Intelligence Field Security Unit. The MI-25 is tasked with looking at the enemy along the border.
It was when Purohit was posted at Deolali near Nashik in Maharashtra as a liaison unit officer when he allegedly came in contact with Ramesh Upadhyay, a retired Major. Upadhyay allegedly set up Abhinav Bharat, an extreme Hindutva group, that Purohit reportedly became a part of. Upadhyay too is in jail in the Malegaon case.
Purohit was later accused of having stolen 60 kg of RDX from the Army - some of which was allegedly used in the Malegaon blast. He was also charged with funding and training Hindu extremist groups like Abhinav Bharat, which was believed to have planned and executed the Malegaon blast.
The Lt Col was stationed at the Army Education Corps Training College and Centre at Panchmarhi, Madhya Pradesh, where he was learning Arabic, when the police allegedly found and decoded some SMSes that he sent out to Upadyay after the Malegaon blasts. He was interrogated, arrested in the Malegaon blast case in late 2008 and has been in jail since.
Six people died and many were injured in the September 29, 2008 in the communally-sensitive textile town of Malegaon. A bomb placed on a motorcycle exploded after Friday prayers had ended at a mosque.
Soon after Purohit's arrest, the Army ordered a Court of Inquiry that later recommended Purohit's dismissal from service. Last year, Purohit filed an appeal in the Armed Forces Tribunal (AFT) seeking that the Court of Inquiry proceedings be quashed as the Army Act 180 had been violated. Purohit contended that some key witnesses had been examined without him being present or being given the chance of cross-examining them.
He says he has been victimized by military intelligence officials. In a statutory complaint sent to the then Army chief in 2009, Purohit had claimed that he was never involved with Hindu extremists and that he was falsely implicated by a fellow officer, illegally detained and tortured.
Purohit has drawn the AFT's attention to the fact that almost a fortnight before his arrest, he had alerted Military Intelligence about the activities of Hindu radicals in Madhya Pradesh and Maharashtra, on the basis of information he had gathered during his tenure Deolali.