Etawah, Uttar Pradesh:
Highlights
In homestead Etawah, Mulayam SinghYadav holds rally
Support candidate of rival small party Lok Dal, he says
Mulayam Singh campaigns against son Akhilesh's candidate
Mulayam Singh Yadav used his first rally in his homestead of Etawah - in the Jaswantnagar constituency of his brother Shivpal Singh Yadav - to ask for votes from the adjoining Etawah Sadar seat not for the candidate from his Samajwadi Party but from rival Lok Dal, a small local party which currently has no seats in the state legislature. With that petition, Mulayam Singh has made it clear that his son, Akhilesh Yadav, can count on his continued needling as he asks for a second term as Chief Minister.
His gesture of aggression came at a crucial time - western Uttar Pradesh with 73 seats voted yesterday.
Etawah in the region, votes on February 19. It has three assembly seats. In the last state elections in 2012, the Samajwadi Party had won all three seats in Etawah.
Mulayam Singh's choice of Samajwadi Party candidate from Etawah he campaigned for on Saturday - his brother Shivpal - was only declared by Akhilesh Yadav at the last minute. From the adjoining Etawah Sadar seat, Mulayam's nominee was overruled by Akhilesh Yadav. He is now contesting as a Lok Dal candidate.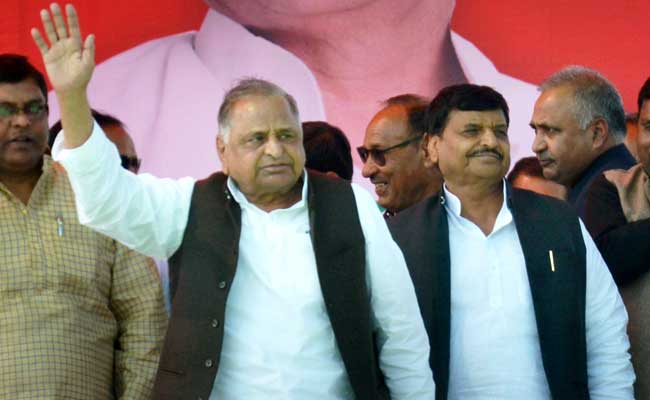 How Western UP votes could influence other parts of the state, which vote across six days, though the calculus of caste and political loyalty shifts shape across them.
Mulayam Singh has not taken well to the new role forged for him by Akhilesh Yadav - as the Samajwadi Party's mentor, an adjunct position for the 77-year-old who founded the outfit over two decades ago and held its controls till recently.
That changed about two months ago, with Akhilesh Yadav lining up most of the party behind him as he replaced his father as party President, won legal rights to use the party symbol of the cycle in case of a split engineered by Mulayam Singh, replaced the patriarch's list of candidates with his own, and signed an alliance with the Congress as junior partner.
To ensure mind space today as Uttar Pradesh votes,
Akhilesh Yadav and Congress boss Rahul Gandhi appeared together today
in Lucknow and launched ten key pointers of the alliance, like smartphones, farmer loan waivers.
Among the areas that voted on Saturday are Muzaffarnagar and Shamli, lacerated by communal violence in 2013 which left nearly 80 people dead and thousands homeless. The following year, in the general election, the Jats, who form 17 per cent of the population, heartily backed the BJP whose campaign was being led by then presumptive Prime Minister Narendra Modi.
However, they have indicated that this time around, they may swerve back towards the Rashtriya Lok Dal because they are angered by the BJP's failure to include them in affirmative action policies. The Jats are largely farmers and they also complain that the PM's demonetisation drive has caused them pain.