Patna:
Highlights
Ruby Rai had topped Class 12 exam in Arts stream, accused of cheating
Rai was failed and her result cancelled today by a review panel
Special Task Force probing the scandal arrested her
Ruby Rai, who topped Bihar's Class 12 exams in the Arts stream this year and was accused of cheating earlier this month, has been arrested by the Special Task Force investigating the case.
Fresh exams were ordered after Ms Rai, 17, in a TV interview had said political science, a subject she virtually aced, teaches cooking. The inquiry prompted by the interview then revealed a much larger cheating racket.
Earlier today, Ms Rai appeared before the expert committee constituted by the Bihar School Examination Board to answer questions. According to officials, she could not answer a single question correctly today. The panel cancelled her result after the review.
Till today, she had been evading summons by the panel and had failed to appear in a re-examination and had been charged by police of cheating and forgery.
Ms Rai was arrested as she emerged from the re-test. A Patna court issued a non-bailable warrant against the four toppers of the intermediate examination, including her.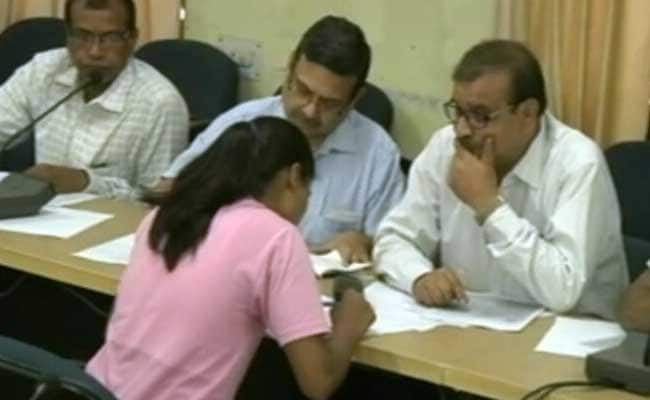 Science topper Saurbabh Shrestha, third topper Rahul Kumar and Vishun Roy college Principal Bachha Rai's daughter Shalini Rai are the other three against whom the arrest warrant was issued.
Mr Srestha, who placed as Bihar's Science topper, had also been unable able to answer elementary questions like the link between water and H20 in interviews after the results were declared.
Meanwhile, during questioning the private assistant of former Bihar School Examination Board or BSEB chairman Lalkeshwar Prasad revealed that Rs 15 lakh was charged for declaring toppers through dubious means, a senior police officer Manu Maharaj said.
The official, Vikash Chandra, also revealed that Rs 10 lakh was charged from a failed student to give them pass certificates, he said.
Mr Prasad, his wife Usha Sinha - former Janata Dal-United legislator, Vishun Roy College principal Bachha Rai and nearly a dozen others have been arrested in the racket.