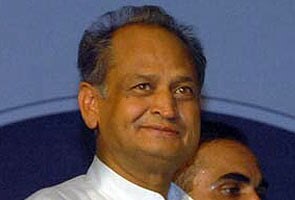 Jaipur:
Rajasthan Chief Minister Ashok Gehlot will be meet all his ministers today in what is being seen as an emergency meeting. There are 16 Cabinet ministers and 11 Ministers of State in his government.
The meeting is scheduled to take place at 11 am.
Usually, the Cabinet meeting takes place on Wednesday but this emergency meeting has once again raised speculations about a political reshuffle in Rajasthan.
The Bhanwari Devi case has been a matter of concern for the party high command, especially because Bhanwari was a woman and a Dalit.
Apart from that, the firing on Meo Muslims in Gopalgarh in September has also politically damaged the Congress in the state. The Meos are a critical Congress vote bank and the party cannot afford to upset them especially in a state that borders Uttar Pradesh that goes to elections next year. In this case, Gehlot minister Shanti Dhariwal's handling of the crisis has come in for much criticism.
Along with Bhanwari Devi and Gopalgarh crises, the party also has to deal with the resignation of another minister Ram Lal Jat who quit over alleged links with another woman Paras Devi.
Whether this meeting will be a damage control exercise or lead to a major political reshuffle in Rajasthan remains to be seen.