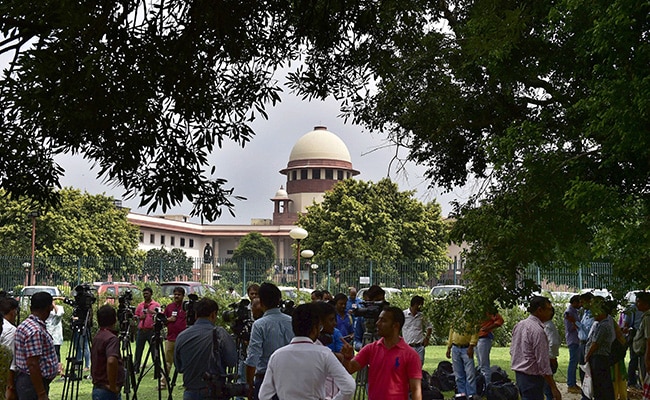 Highlights
Ruling will be delivered at 10.30 am by a nine-member bench
Petitioners say that enforcing Aadhaar is an infringement of privacy
Aadhaar database links iris scans, fingerprints to over billion people
New Delhi:
The Supreme Court will today deliver a landmark verdict on whether individual privacy is a fundamental right protected by the constitution. The ruling will be delivered at 10.30 am by a rare nine-member bench and is based on an array of petitions that challenges the mandatory use of Aadhaar cards which assign a unique 12-digit ID to every citizen.
Here is your 10-point cheat-sheet to this big story:
The government has argued that the constitution does not guarantee individual privacy as an inalienable fundamental right.

The petitioners say that enforcing the use of Aadhaar is an infringement of privacy. They also stress that the Aadhaar database was originally presented as a purely voluntary programme that offered to provide every Indian with an identity card.

The Aadhaar database links iris scans and fingerprints to more than a billion people. The court today will not rule on the reach of Aadhaar - that will be decided separately by a smaller bench, the judges have said.

Critics argue that although the right to privacy is not explicitly set out in India's constitution, it nevertheless guarantees it implicitly.

"Our constitution gives us liberty to live life," Gopal Subramanium, a lawyer for the petitioners, argued before the nine judges. "Liberty existed even before the constitution was drafted and it includes privacy. There cannot be a question of diminution but expansion of a right. Right to liberty includes freedom from encroachment on his or her privacy," he said.

The government says Aadhaar is essential for all services including tax returns, opening bank accounts and securing loans, pensions and cash transfers for those entitled to welfare schemes. It has rejected suggestions that the Aadhaar programme, set up in 2009 by the previous Congress-led government, poses a threat to civil liberties.

Critics say the Aadhaar identity card links enough data to allow profiling because it creates a comprehensive profile of a person's spending habits, their friends and acquaintances, the property they own, and a trove of other information.

There are fears the data could be misused by a government that argues Indians have no right to privacy. There have been recurring reports of Aadhaar details being accidentally released, including on government websites.

In May, security researchers discovered that the Aadhaar information of as many as 135 million people had leaked online. UIDAI, the agency that governs Aadhaar, has repeatedly said that its data is secure.

Petitioners say that if the court rejects privacy as a basic right, it would give the state much greater powers to monitor people and to enact laws with an impact on personal freedoms.