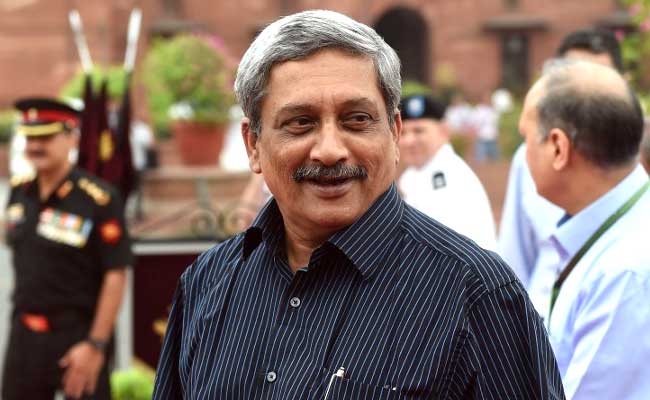 Jaipur:
Even as ex-servicemen held protests over delay in non-implementation of the 'One Rank, One Pension' scheme, Defence Minister Manohar Parrikar today sought to assuage their concerns, saying the "promises" made will be kept and that they should be "patient".
"I assure you whatever we have promised that all would be done... but some people need to be patient," Mr Parrikar said addressing a conference here on challenges and solutions regarding border safety.
Upset over the delay in implementation of OROP, ex-servicemen held protests across the country, including in the national capital, demanding its immediate introduction.
The former soldiers have threatened to go an a relay hunger strike from tomorrow.
Mr Parrikar also stressed on "zero tolerance" to acts of terrorism to address concerns about national security.
"You can drop a glass but you don't drop a child because you take all precautions and that is mindset. The day you would take a decision not to drop the glass, you won't drop it ever. Zero tolerance is the only solution for matters related to national security and that has to be the mindset," he said.
Apparently referring to the army's cross-border strikes in Myanmar following the killing of 18 soldiers in an ambush in Manipur, the minister said," A recent incident has changed the national security scenario and there appears to be a change in the mindset of people."
Mr Parrikar said national security may be endangered due to internal disturbances, which could be a result of "internally or externally created problems."
He said external issues could pose a threat to national security as happened during the Bangaladesh liberation war in 1971 when people from that country crossed into India to escape "genocide".
"External issues could be problematic to a nation as it happened in Bangladesh in 1971 when people had started moving to India due to genocide. Danger to India by external factors ... I am not going into details... but it is permutation and combination of various factors," he said.
He identified cyber crime as a new challenge for defence forces.
"If there is a cyber attack or cyber terrorism then there can be a threat to border or it might be converted into a warfare," he said.
He, however, ruled out any security threat due to hacking of defence websites as all vital information was cloud-based and protected against such intrusion.
Mr Parrikar termed counterfeit currency problem or "economic terrorism" as more dangerous than cyber attacks.