New Delhi:
Jammu and Kashmir Chief Minister
Mufti Mohammad Sayeed
died at the All India Institute of Medical Sciences in Delhi on Thursday morning. He was 79.
Mufti Mohammad Sayeed's daughter and the president of his Peoples Democratic Party, Mehbooba Mufti, 56, is expected to take over as the first woman chief minister of the state. The PDP has written to the Governor, backing Ms Mufti as the next chief minister. The PDP rules Jammu and Kashmir in partnership with the BJP.
Mehbooba Mufti arrived at AIIMS this morning. Vice President Hamid Ansari, union Home Minister Rajnath Singh, Foreign Minister Sushma Swaraj, Congress President Sonia Gandhi and former Chief Minister of Jammu and Kashmir Omar Abdullah also visited.
Mr Sayeed had been in hospital for two weeks and was being treated for a lung infection. He was put on ventilator support yesterday after his condition worsened.
Mr Sayeed's last rites were performed at his ancestral village in Anantnag's Bijbehara in south Kashmir this evening. As a mark of respect, the Jammu and Kashmir government has announced a seven-day state mourning.
Prime Minister Narendra Modi
paid tribute
to the Mufti at the Palam airport in Delhi this morning. He had earlier tweeted: "Mufti Sahab provided a healing touch to J&K through his leadership. He will be missed by all of us. Condolences to his family & supporters (sic)."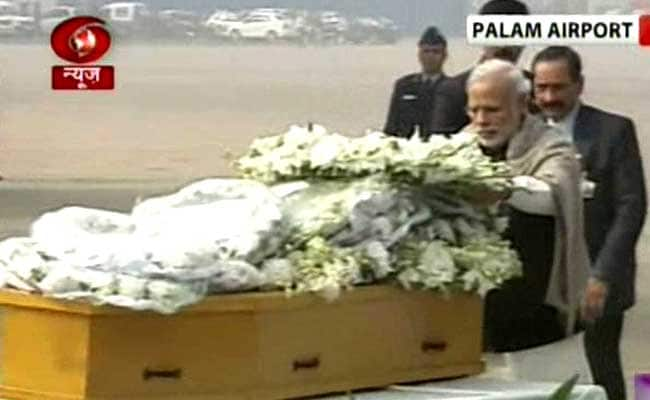 "The contribution of Mufti Mohammad Sayeed to Jammu and Kashmir and India through long years of public service will be always remembered," said President Pranab Mukherjee in a condolence message.
Mufti Mohammad Sayeed, the patron of PDP, took oath as chief minister on March 1 last year, after weeks of negotiations with the BJP, an ideological opposite. It was his second stint as chief minister. He had held the post between 2002 and 2005, as an ally of the Congress.
Mr Sayeed was part of the Congress for many years before he broke away in 1999 to launch his party along with his daughter.