New Delhi:
Lalit Modi, the Indian Premier League (IPL) founder accused of corruption, has claimed on social media that the
Interpol
has rejected India's request for a red corner notice to enable his extradition. "The sword that was hanging over my head had suddenly gone," he said in a message on Instagram.
Mr Modi, 50, has been living in London for the past few years. He left India in 2010 in a haze of allegations related to tax evasion, money-laundering and proxy ownership linked to the money-minting IPL. The Enforcement Directorate says Lalit Modi manipulated the process of assigning broadcast rights of the IPL in 2009, reportedly in exchange for a kickback of over 125 crores.
He has since refused to return to India, alleging death threats from the underworld.
Through an Interpol Red Corner Notice, a country can seek the location and arrest of a wanted person. A letter tweeted by Mr Modi quotes the Interpol as saying Lalit Modi "as of today, is not subject to an Interpol Red Notice...and is not known in Interpol's databases."
In his post on Instagram, Mr Modi said he was left "completely numb" when he got the news that "Interpol had finally investigated and concluded and reached a verdict in my favour with a detailed letter of rejection of India's request for issuing of a red notice."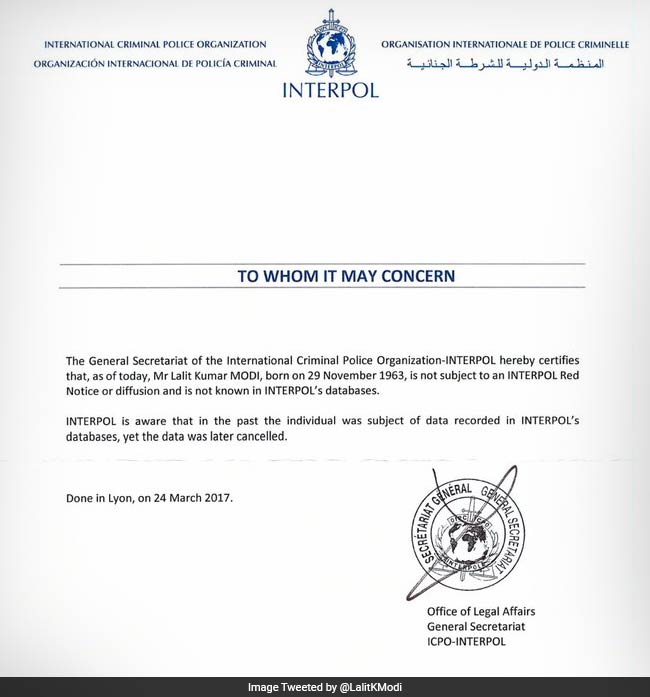 Expressing "gratitude" to friends and supporters, the former IPL commissioner said he is "ready for a new beginning".
A non-bailable warrant was put out against Lalit Modi in 2015. After the government faced opposition attacks in Parliament and was accused of helping him with urgent travel papers in Britain , Foreign Minister Sushma Swaraj said in Parliament that she helped on humanitarian grounds as his wife was suffering from cancer and she needed surgery.
Last year, the former cricket czar again came in the media glare when tycoon Vijay Mallya hightailed it to
London
in the middle of desperate efforts to recover crores in unpaid loans.