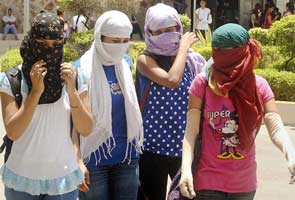 New Delhi:
An intense heat wave is sweeping most parts of the country and has already claimed three lives in Madhya Pradesh since yesterday. Mercury levels in the state have been hovering around in the mid-forties, which is way above normal for this time of the year.
On Monday, Khajuraho remained the hottest place in Madhya Pradesh with a day temperature of 46.7 degrees Celsius even as state capital Bhopal sweltered at 44.3 degrees Celsius.
In neighbouring Maharashtra, Nagpur today recorded 47.8 degrees Celsius, equaling its all-time highest temperature. "Temperature is really high. We cannot effort to step out of house without water bottle and umbrella. Traveling has become very difficult due to heat," said a Nagpur local.
Churu in Rajasthan remained the hottest place at 48.2 degrees Celsius.
Delhi, Uttar Pradesh, Punjab, Haryana, Rajasthan and Bihar are some of the states bearing the brunt of scorching conditions.
According to the MeT department forecast, heat wave to severe heat wave conditions may occur in some parts of Punjab and Haryana during the next few days.