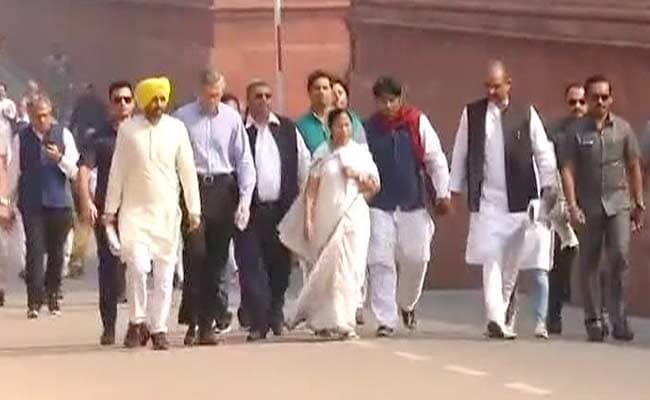 Highlights
Winter session of Parliament begins with debate on notes ban
Opposition attacks government over long lines at banks
Mamata Banerjee joined in protest march by Shiv Sena, a BJP ally
New Delhi:
A united opposition launched a vigorous attack on the government and Prime Minister Narendra Modi on the first day of parliament's winter session. All the action was in Rajya Sabha, where the Congress dared PM Modi to make an intervention tomorrow. Other parties demanded a probe into what they called a "leakage" of the information of the currency ban.
Here are the 10 latest developments in this big story:
Senior Congress leader Anand Sharma, who initiated the debate, launched a personal attack on the Prime Minister, saying, "Modiji was riding a bullet train in Japan" when the elderly, women and common man were queueing up at banks at 3 am so they could buy the basic necessities.

The JD(U), RJD, SP, BSP, Trinamool Congress, Left and the AIADMK joined ranks with the Congress. The opposition alleged that information about the ban had been leaked to BJP units and "friends of BJP" and demanded a Joint Parliamentary Committee probe.

Quoting media reports, Anand Sharma said the State Bank of India, the country's largest lender, knew of the decision way back in March and in April, a Gujarati newspaper had published a report of the move to withdraw 500 and 1000 rupee notes.

Mr Sharma said it was not the big industrialists but the poor, who have been left without any cash, he said, stressing that the cancelled notes form 86% of the currency in circulation. Regarding the newly introduced Rs 2,000 note, he said it was similar to the paper packets in which "churan" is sold and "sheds colour".

The government rejected the allegation of information leakage as baseless and said everyone was taken by surprise by the announcement, which was why there are "initial" problems.

Defending the currency ban, the government said the step was taken in national interest and to end corruption and black money, which it linked to terror activities in the country.

The Lok Sabha had been adjourned and did not work in a gesture of respect for a member who died recently.

Earlier today, West Bengal Chief Minister Mamata Banerjee marched from parliament to Rashtrapati Bhavan to protest against the ban on old notes. She was accompanied by representatives of the Shiv Sena, a party which is a member of Prime Minister Narendra Modi's coalition government and often a vocal critic.

The Shiv Sena said it was not against the PM's initiative to check black money, but against "the suffering caused to the common people".

On eve of winter session, PM Modi had said he was counting on "good debates" on key issues and hopes the opposition will cooperate to support key legislation like taking the next steps to introduce the national Goods and Services Tax or GST, the biggest tax reform in decades.