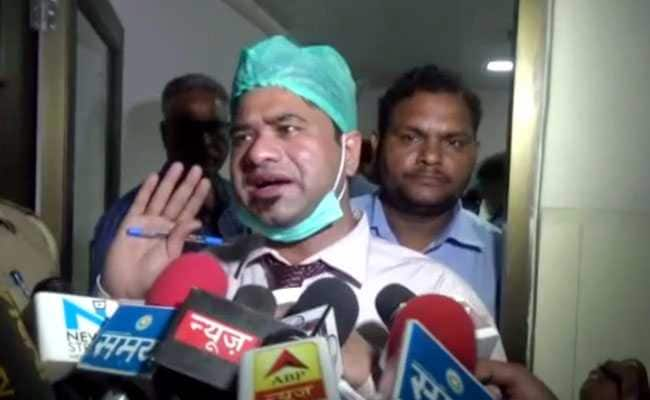 ALLAHABAD:
Dr Kafeel Khan, the pediatrician in Gorakhpur's largest hospital arrested after the death of 63 children last August, has been ordered to be released on bail. The Allahabad High Court today granted bail to the doctor since the police had already filed charges against the accused.
Dr Khan, on whose watch oxygen supply dipped to a critical low, was one of the doctors blamed by the Yogi Adityanath government for the deaths in the Chief Minister's home constituency that had sparked a political firestorm.
The government's initial approach to point that the number of children - premature newborns and children suffering from encephalitis which plagues the area - to have died under its rule was much lower than previous years didn't help assuage public outrage. Yogi Adityanath later promised a "standard-setting punishment" for the guilty when it became clear that the opposition wasn't going to back down.
A quick inquiry conducted by the state government officials lay the blame for the oxygen shortage at the doors of the hospital administrators and doctors.
Dr Khan was blamed for failing to take action on a letter by those in charge of the hospital's oxygen supply, warning that that there was only enough to last till the evening and asking for emergency supplies, the government had said.
Dr Rajeev Mishra, who was the head of the medical college, had contradicted the Yogi Adityanath government that had accused him of taking too long to seek funds needed to pay for the oxygen supplier.
The government's crackdown on the hospital staffers and sparing the state bureaucrats who had been sitting on bills sent by the oxygen supplier was widely criticised by bodies of doctors in Uttar Pradesh and elsewhere.
Dr Khan, who has spent seven months behind bars, says the oxygen supply was disrupted due to a "administrative failure" and he had been framed. "It was a total administrative failure at higher level, they did not realise the gravity and just to save themselves, they made us scapegoat and put us behind the bars," the doctor said in an open letter he sent from prison last week.