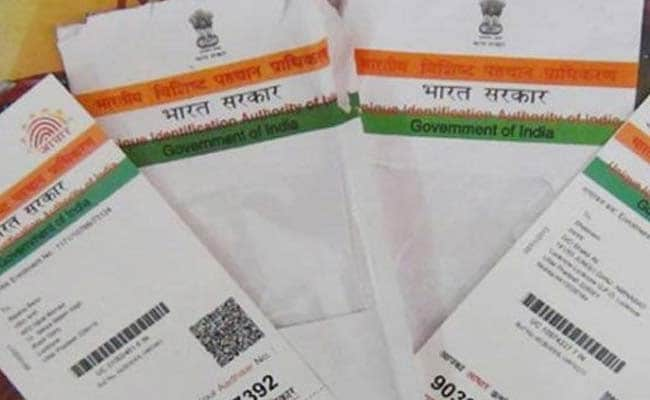 New Delhi: People who do not have Aadhaar will get another three months to link their Unique Identification Number with bank accounts and government welfare programmes, the Centre told the Supreme Court today. The new deadline will be March 31 instead of December 31, and a notification for this will be issued tomorrow, the court was told. The Unique Identification Authority of India, or UIDAI, which issues Aadhaar, said as of today, there was no relaxation and all the earlier rules apply. People should link Aadhaar with bank and investment accounts and SIM cards as early as possible to avoid inconvenience, UIDAI said.
Here are the 10 updates in this big story:
Attorney General KK Venugopal, who was representing the government, told the court that the deadline for linking Aadhaar to cellphone numbers cannot be extended since there is a court order on this. Aadhaar has to be linked to SIM card by February 6.
A five-judge bench of the Supreme Court is expected issue an interim order in the matter next week.
A number of activists have filed petitions, objecting against the government order to link Aadhaar with bank and investment accounts and cellphones, saying it is a breach of Right to Privacy, which has been accepted by the Supreme Court in an earlier order.
The activists have also challenged the validity and legal basis of Aadhaar, which collects and stores biometric data like finger prints and iris scans.
Among the petitioners is Justice KS Puttuswamy -- a former judge of the Karnataka High Court.
"Our case is that those who have Aadhaar must also be allowed not to link (UID with bank and other accounts). There are fears that Aadhaar will be misused," said Udayaditya Banerjee, the advocate representing the petitioner "We have challenged the Aadhaar scheme itself," the lawyer added.
On October 25, the Centre told the court that it was extending the December deadline to March 31 for those who receive benefits of welfare schemes but do not have Aadhaar.
The Centre has made adding the 12-digit number mandatory for bank accounts, PAN cards, government services and cellphone services.
Prime Minister Narendra Modi said linking Aadhaar with the welfare system has helped plug corruption. Aadhaar has a played a "big role" in ensuring that ration at proper rates, scholarships, pension and government subsidies reached the poor, he said.
The UIADI said over the last few months around 500 missing children have been traced through Aadhaar. This has happened in instances where a child found in an orphanage underwent Aadhaar enrolment and it was found that his/her 12-digit biometric identifier had already been made, said UIADI chief Ajay Bhushan Pandey.