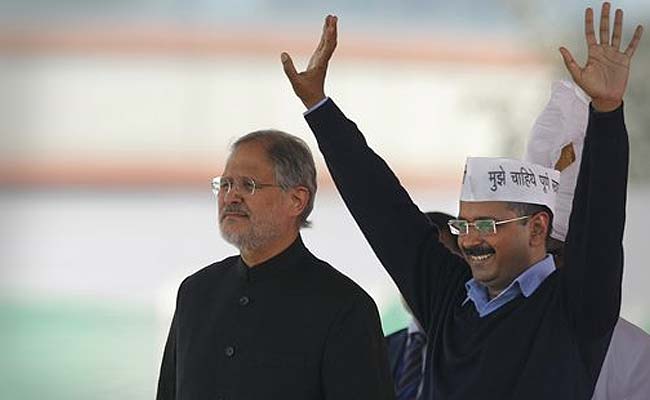 New Delhi:
Delhi's Lieutenant Governor Najeeb Jung has escalated his confrontation with chief minister Arvind Kejriwal by appointing a Joint Commissioner in the Delhi Police, MK Meena, to head the capital's Anti-Corruption Branch (ACB) above SS Yadav, the officer Mr Kejriwal had picked for the job.
Mr Jung appointed Mr Meena and seven other officers from the Delhi Police to the ACB today. Mr Meena is senior to Additional Commissioner SS Yadav and so will supersede him and head the Bureau.
Deputy Chief Minister Manish Sisodia tweeted, "What is the conspiracy behind creating a new designation of Jt Commissioner and appointing your favorite officer?" He also said, "This is the same officer who had tried to implicate me by falsely reporting farmer's suicide in Jantar Mantar as murder."
Jt Commissioner Meena was in charge of the investigation into the death of a Rajasthan farmer Gajendra Singh at an Aam Aadmi Party rally in Delhi in March this year. The police had alleged in an FIR or First Information Report that AAP workers clapped and cheered when Gajendra was on the tree, and instigated him. They also say that AAP volunteers obstructed them at every step, and prevented them from saving the farmer.
Sources said the AAP government in Delhi had no knowledge of this latest move by the L-G, who represents the Centre in the capital. They also said that the post of a Joint Commissioner of Police does not exist in the ACB.
Last week, the L-G had objected to Mr Kejriwal getting four police officers from Bihar on deputation to Delhi's ACB. A press statement from Mr Jung's office said no appointment to the ACB could be made without his consent.
The Centre has backed the L-G on this saying that the ACB comes under his jurisdiction since the L-G controls the police in the capital and the ACB is deemed a police station. Delhi does not have full statehood and the Centre, through the L-G, controls several key functions.
For several weeks now Mr kejriwal has clashed with Mr Jung over key appointments in the capital. Mr Jung insists the final say on appointments is vested in him; Mr Kejriwal says an elected head of government is entitled to choose members of his team.