New Delhi:
Highlights
Mexico's envoy has put aside her official car in favour of a CNG auto
Ms Pria says embracing CNG auto helps fight pollution in Delhi
She says it also helps advertise "Mexico in an Indian way"
VIPs are exempt from Delhi's Odd-Even plan, but there's one diplomat who doesn't crave the exemption. Perhaps due to her experience of living in Mexico City as it battled its notorious pollution problem, Mexico's envoy to India, Ambassador Melba Pria, has put aside her official gas-guzzling car in favor of a CNG auto.
It is an unusual sight -- a diplomatic license plate on a humble auto. The security guard at the Mexican embassy in Anand Niketan perhaps puts it best. "Our ambassador is hatke," he said.
Embracing the CNG auto killed two birds with one stone, Ms Pria explained. First, it helps advertise "Mexico in an Indian way". Painted in vivid colors by a visiting Mexican artist, the auto is branded with her country's official tourism slogan: "Mexico: Live It to Believe it." Second, it helps fight the environmental pollution in Delhi.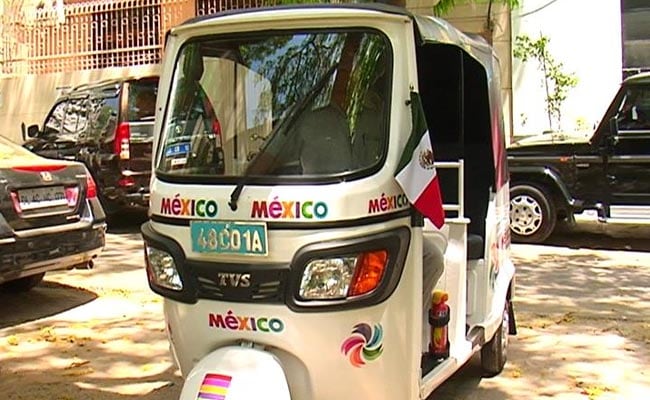 Pollution is something Ms Pria knows about. In 1992, the United Nations described Mexico City's air as the most polluted on the planet -- a reputation Mexico has been working hard to improve.
Home to 17 million people and 3 million cars, Mexico has also experimented with keeping cars off the streets. Solidly behind AAP's Odd-Even plan, Ms Pria, however, warns that for the experiment to succeed, there has to be greater investment in public transportation.
In class-conscious Delhi, her ride has been stopped at many venues including Parliament. "At places where we are not allowed, I just get off and walk," said the ambassador, who appears to enjoy the consternation her auto causes.
Her driver seems more affected. Rajendra Kumar initially protested when he was told that he would need to drive an auto. Today, Kumar claims he has been won over. "Sometimes the other drivers laugh at me. But I know she is trying to make a difference. If everyone were like her, we would not need odd-even," he said.