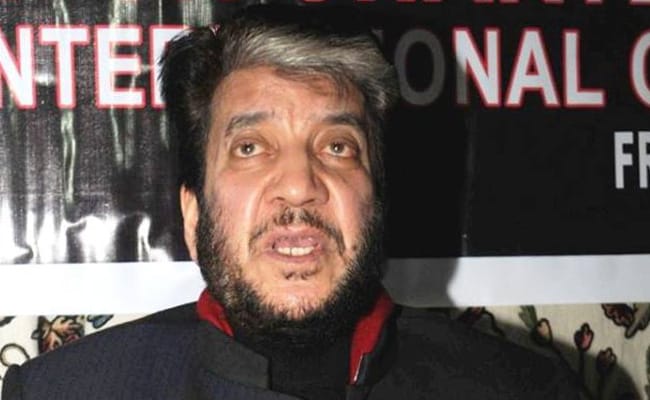 Highlights
Shabir Shah arrested on charges of terror financing
He says allegations against him are politically motivated
He will be questioned along with other 6 other arrested separatists
New Delhi:
Widening the Kashmiri separatist crackdown, Hurriyat leader
Shabir Shah was arrested by the Enforcement Directorate in Srinagar
and will be brought to Delhi today.
Shah's arrest in a decade-old money laundering case comes days after seven Kashmiri separatists were arrested by the National Investigation Agency on charges of terror financing. The seven will be questioned over the next 10 days by the NIA that expects to find firm evidence to directly link Hurriyat Conference hardliner Syed Ali Shah Geelani to terror financing.
Shabir Shah has been facing a probe in the money laundering case after Mohammed Aslam Wani was arrested by Delhi Police allegedly with Rs. 63 lakh in August 2005. During questioning, he told the police that a big chunk of this money, Rs. 50 lakh was for Shabir Shah. Another Rs.10 lakh to Jaish-e-Mohammad area commander in Srinagar, Abu Baqar, and the rest, his commission.
During interrogation, a senior police officer said, Wani had claimed to have passed on Rs 2.25 crores received through hawala to Shabir Shah during the previous one year.
The Enforcement Directorate, which had taken up the investigations, had summoned him for questioning on several occasions. Earlier this month, a Delhi Court ordered his arrest since he did not turn up.
ED officials said the Hurriyat Conference leader would be brought to Delhi today and produced before the court. News agency Press Trust of India said Shah had claimed the allegation was politically motivated.
The Enforcement Directorate is also probing cases of money laundering by other Kashmiri separatist leaders to choke financing of terrorists and groups that stoke unrest in the valley.
The NIA, which was set up to probe terror cases after the 26/11 Mumbai terror attacks, says it has evidence that seven Hurriyat Conference separatists used money got through hawala from Pakistan to pay people to burn schools and throw stones during protests in the Kashmir Valley since last year, fuelling unrest.
Among the seven are Syed Ali Shah Geelani's son-in-law Altaf Shah, and three key aides, Ayaz Akbar, Me'raj Kalwal and Bashir Ahmad Bhat.
NIA sources told NDTV that Hurriyat conference hardline leader Geelani would also be questioned in this case. The NIA is also trying to track down people used as conduits by the leaders to deliver money to ring leaders of stone throwers in Kashmir valley. The arrests come weeks after the NIA carried out raids at nearly three dozen locations in Jammu and Kashmir, Delhi and Haryana in June. The NIA had claimed to have found letterheads of Hizbul Mujahideen and Lashkar-e-Taiba (LeT), phones, jewellery and over Rs 2 crore cash.