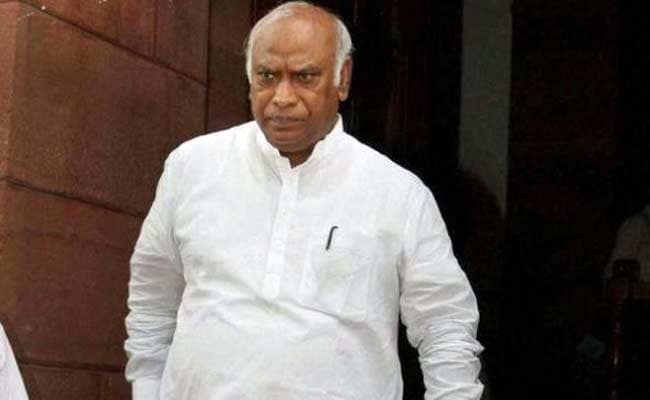 New Delhi:
Mallikarjun Kharge, Leader of the Congress party in Lok Sabha, drew strong criticism from the ruling BJP on Thursday, when he said "any attempt to review the Constitution could result in ...consequences."
His exact words - a reference to violent retaliation in Hindi - were asked to be removed by the Speaker after Parliamentary Affairs Minister Venkaiah Naidu strongly objected and called it an attempt to "threaten" the government. Words expunged in Parliament can't be reproduced.
Prime Minister Narendra Modi, who was listening to the speeches through the day, was seen gently nudging Mr Naidu to respond to Mr Kharge's remark.
Mr Kharge took part in the debate - on Commitment to the Constitution - and tried to defend his party's record in "protecting the spirit of the Constitution" by enacting laws like the Food Security Act and the Rural Employment Guarantee Act.
But through his speech, he kept targeting the Prime Minister. "Today, it's a record that the Prime Minister who came in the morning is still sitting here," he said.
Mr Kharge said when people express their views on intolerance, the ruling party members tell them to go to Pakistan, "but the Prime Minister prefers to stay silent".
He also said it was not right on part of Home Minister Rajnath Singh, who initiated the debate, to object to the introduction of the words "secular" and "socialist" in the Preamble.
The government response to Mr Kharge came in the form of a stinging attack by Social Justice and Empowerment Minister Thawar Chand Gehlot.
"The BJP government in Madhya Pradesh built a memorial in the name of Ambedkar... The VP Singh government conferred Bharat Ratna on him on the recommendation of AB Vajpayee. Why didn't the Congress do all this?" asked Mr Gehlot, adding, "because the Congress was interested only in one family."
Mr Gehlot too made a controversial remark when he said, "former Prime Minister Rajiv Gandhi and Indira Gandhi were assassinated because of the wrong policies of the Congress."
There weren't too many members on the Congress side to protest strongly but the party's deputy whip KC Venugopal asked that the remark be expunged. Deputy Speaker Thambidurai, who was presiding over the proceedings, said he will look into the records and decide.
The debate on the Constitution -- started on Thursday to mark November 26 when it was adopted in 1949 -- will continue on Friday when PM Modi will respond to the points raised.