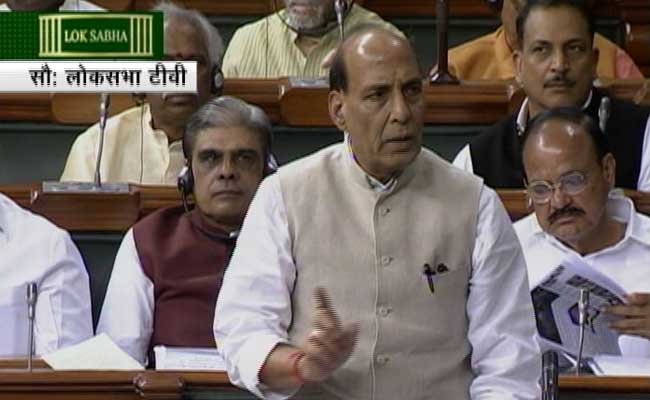 New Delhi:
The Congress today launched a scathing attack on Home Minister Rajnath Singh, accusing him of diversionary tactics a day after he accused the previous UPA government of "weakening India's fight against terrorism" by coining the term "Hindu terror".
"It's a completely diversionary argument. The fact is that he was referring to Mr Shinde who made a statement outside Parliament. He (Shinde) didn't use the phrase Hindu terror in the manner Rajnath Singh quoted... He was referring to right-wing extremist groups who had been implicated and some of them charged in several bomb blast cases," former union minister and senior Congress leader P Chidambaram told NDTV, referring to former Home Minister and party colleague Sushil Kumar Shinde.
On Friday, Mr Singh, while making a statement in Lok Sabha on Monday's Gurdaspur terror attack, said, "The then Home Minister had coined the new term 'Hindu terrorism' in order to change the direction of probe. It weakened our fight... Hafiz Saeed of Pakistan had congratulated the then Home Minister."
Hafiz Saeed, the mastermind of the 2008 Mumbai terror attacks, is among India's most wanted men and roams free in Pakistan, often making provocative anti-India speeches.
Saying that "terrorism has no religion, no caste," the Home Minister also censured the opposition party for making Parliament seem like a divided house on the serious issue of terrorism. His statement in the Rajya Sabha on the Gurdaspur attack, a day before, was drowned out by a slogan-shouting Congress.
"The Home Minister has diverted attention from the issue. The reality is that this government has totally failed in tackling terrorism in the country," Congress's Ghulam Nabi Azad said today. Mr Chidambaram added, "Gurdaspur involved intelligence failure. That's very clear. The honest thing to do is to admit that it was a mistake."
Seven people - four cops and three civilians - were killed in Gurdaspur in Punjab by three terrorists who engaged in a 12-hour gunbattle before being shot dead by the police. Rajnath Singh told Parliament that there was overwhelming evidence that the terrorists came from Pakistan by crossing the Ravi river.