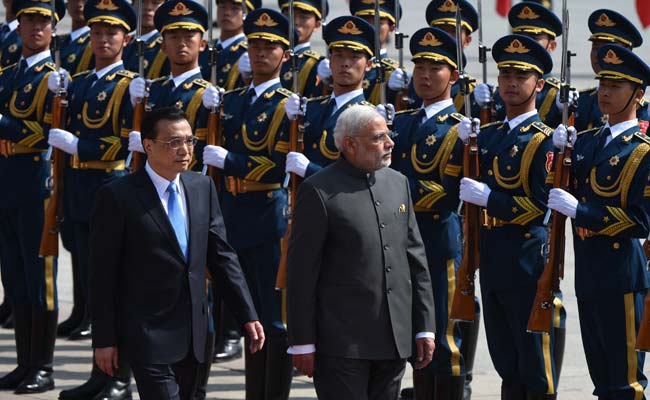 Beijing:
Chinese President Xi Jinping told Prime Minister Narendra Modi that the two countries should build mutual trust by "controlling their differences" and strengthen cooperation between the two Asian giants.
Mr Xi hosted PM Modi in his ancestral hometown at the start of the Prime Minister's three-day visit to China on Thursday, as the two countries worked to boost economic ties despite decades of mistrust.
"We must work together to enhance mutual trust, control our differences and problems to avoid them interfering with bilateral relations," Mr Xi was quoted as telling PM Modi, according to a statement late on Thursday on China's foreign ministry's website.
The list of problems the world's two largest countries by population face are considerable, ranging from a festering border dispute to China's support for Pakistan.
India's foreign secretary S Jaishankar described the over 90 minutes of talks between the two Asian leaders at the Shaanxi Guest House as "very substantive and the atmosphere was very comfortable."
He said the two leaders covered issues ranging from political and economic to global issues like terrorism, United Nations reforms and India's membership of the Nuclear Suppliers Group (NSG).
"On the political side, there was a lot of discussion on strengthening trust and increasing convergence," said Mr Jaishankar adding that the two leaders discussed the boundary issue, including peace and tranquility, besides trans-border rivers.
China's statement said Mr Xi urged PM Modi to strengthen coordination on global and regional affairs and "work together to promote the international order in a more just and fair direction".
To enhance what he called the "national rejuvenation" of both China and India, Mr Xi urged cooperation in areas including railways, industrial parks, urbanisation and training. He pledged to encourage Chinese companies to invest in India.
"The two sides should follow the historical trend and realise the strategic needs for our national rejuvenation to build a closer partnership for development," Mr Xi told PM Modi.
President Xi's comments are part of a broad push to invoke nationalistic themes to win public support and legitimacy as he seeks to boost China's role as a bigger player in international politics.
Mr Xi said China was willing to work with India to "promote regional peace, stability and prosperity" in South Asia. His remarks come as international concern has deepened about China's maritime ambitions in the South China Sea.
China's rapid reclamation effort around seven reefs in the Spratly archipelago of the South China Sea has alarmed other claimants such as the Philippines and Vietnam.
Today, PM Modi met Premier Li Keqiang in Beijing's Great Hall of the People and the two leaders will hold talks. He will visit the economic powerhouse of Shanghai after that to meet business leaders.