Highlights
BJP's Dr Radha Mohan Das Agarwal picked up argument with an IPS officer
The lawmaker has said he did not misbehave with the officer
Dr Agarwal alleged the officer hit a woman and dragged an 80-year-old man
Gorakhpur:
A senior BJP lawmaker from Gorakhpur, the home turf of Uttar Pradesh Chief Minister Yogi Adityanath, got into an argument with a senior police officer of the area on Sunday afternoon, asking her not to cross her limits, which made the IPS officer, Charu Nigam break down.
The incident happened when a group of women had blocked a road near the Koilhwa village alleging the complicity of the police and the administration in the sale of illicit liquor in the area.
As the situation got tense, there was a scuffle between the women and the police present at the spot. The police says there was stone pelting from the crowd after which there was a lathi-charge - some women were injured.
Immediately afterwards, Dr Radha Mohan Das Agarwal, veteran BJP lawmaker from Gorakhpur and also a famous doctor reached the spot and picked up an argument with Ms Nigam, an IPS officer of the 2013 batch currently under training in Gorakhpur.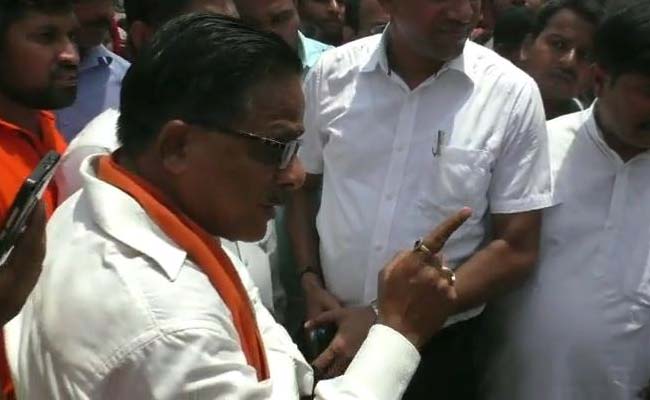 In footage shot by journalists, Dr Agarwal repeatedly shouts at the officer, saying "
Main aapse baat nahin kar raha hoon... mujhe tum kuch na batao. Chup raho tum! Bardasht ke bahar mat jao
(I am not speaking to you. Don't tell me anything. You keep quiet. Don't cross your limits)". Mr Agarwal repeatedly wags his finger at the officer.
"I am the officer in charge here. I know what I am doing," says the officer.
A senior officer then arrives on the spot, while Ms Nigam takes a handkerchief and can be seen wiping her tears in footage shot on a mobile phone.
The lawmaker has said he did not misbehave with the officer.
"We are against the operation of liquor shops. People were peacefully protesting against the liquor shops, but the woman police officer forcibly removed the protesters and while doing so, she hit a woman and dragged an 80-year-old man. This simply cannot be tolerated," said Dr Agarwal.
He also alleged that there was a tacit understanding between the police and the liquor mafia as a liquor shop closed 15 days back had suddenly started doing business again.