Singapore:
Launching his sharpest attack on the BJP government in days, Congress President Rahul Gandhi on Thursday in Singapore said there is a general atmosphere of "intimidation" in India where a "nasty form of politics" of dividing people was being played to win elections. Speaking at a panel discussion at the prestigious Lee Kuan Yew School of Public Policy, Mr Gandhi also said that there is a challenge to the institutional structure of India.
"If you ask me what am I proud about my country...it is the idea of plurality. It's the idea that people in India can say anything they want, do anything they want and they won't face any problem and that is being challenged...," he said.
"There is a particular type of politics that's not only happening in India but in a number of places - of dividing people, of using (their) anger to win elections and that's what is happening in India," he told the audience at the school, which is part of the National University of Singapore.
Commenting on the recent controversy of four senior Supreme Court judges holding an unprecedented press conference, Mr Gandhi said, "They actually went out to the press and said listen we need the people to hear our voice because there is something fundamentally wrong."
Mr Gandhi alleged that there is a "very aggressive and organised attack on the system and on the judiciary. If you speak to the press, if you talk to business people, they will also tell you that we feel intimidated. So there is a general atmosphere of intimidation."
The Congress president said that the idea of India that Mahatma Gandhi envisioned was that an India where everybody is comfortable regardless of religion, community, regardless of state.
"The idea that anybody coming to India, even the foreigner coming to India, feel comfortable in the country...that idea is being challenged now," he asserted.
"Where we are running into trouble now is the levels of violence and anger that you are seeing in India and this to me is a syndrome," he said, adding that "I'm proud to say that our vision is bringing people together."
Responding to a question, Mr Gandhi accused the BJP and the RSS of indulging in anti-minority politics.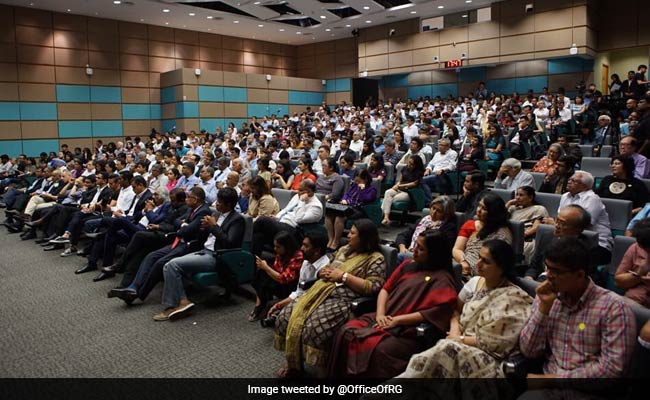 "Mahatma Gandhi died protecting minorities. We, the Congress party, have been protecting minority people for the last 70 years. We don't like an India where people are persecuted, where people are being beaten up for what they eat, what they say and what they wear," he said.
Asserting that "we will fight him and we will defeat him" in the election, he said "very soon you will see India where everybody is respected and everybody is loved."
He also criticised BJP's Kashmir policy, saying the Congress-led government had curbed terrorism by 2012 but it resurfaced after the BJP came to power in 2014.
"In 2014 when I went to Jammu and Kashmir I felt like crying. I saw what a bad political decision can do to years and years of policy-making," he said.
The BJP has lost the touch with the people and created a strategic problem in Jammu and Kashmir, he said and underlined the need to engage people and win their trust.
He also slammed the BJP government over its "bad record" of creating jobs, saying "our record is better".
Mr Gandhi is on a two-day visit to Singapore and will meet Prime Minister Lee Hsien Loong on Friday. He will then travel to Malaysia where he will meet Prime Minister Najib Razak and members of the Indian community.
Get the latest election news, live updates and election schedule for Lok Sabha Elections 2019 on ndtv.com/elections. Like us on Facebook or follow us on Twitter and Instagram for updates from each of the 543 parliamentary seats for the 2019 Indian general elections.